I've got a couple of young boys whose idea of a good weekend involves jumping on the trampoline, playing Red Hulk vs. Weak Dad, and wishing they walked around with their own personal soundtrack to warn others they're coming. Thanks to a big backyard, my apparent inability to bruise and a sweet little gadget from ThinkGeek called the Mega Stomp Panic, I can now go to bed at night knowing their dreams have come true. And, frankly, so have those of my own inner six-year-old.
The Mega Stomp Panic is simple enough in concept but so novel and effective that you'll wonder why it hasn't come out soon. The primary part of the gadget looks like an oversized pager with am embedded speaker and two nobs. One of the nobs controls the volume, while the other switches between nine different soundtracks that activate when you walk. That's where the second component comes in: a small Tic-Tac-box-sized piece of plastic that clips onto your back belt loop and signals the main Mega Stomp Panic box to make a sound with every step you take. How it senses individual steps even when wearing thick clothing is beyond me, but it does, and it sounds great.
The sounds of the Mega Stomp Panic range from a massive robot and zombie to a peg-legged pirate and 8-bit videogame character whose jumps sound remarkably like Super Mario. Considering the origins of this website, you can imagine which one was my sons' favorite (and mine), although to the jumping and walking sound effects are infinitely better than the tinny 8-bit musical backdrop. The two worst effects are the gunslinger/cowboy and medieval knight, because the jingling spurs aren't very well defined and the clanking chainmail is hard to make out. The peg-legged pirate is the third-worst, if for no other reason than you have to explain to passersby why every other step sounds different from the rest. Both robot options, the zombie and the 8-bit hero are clearly the cream of the Mega Stomp Panic crop.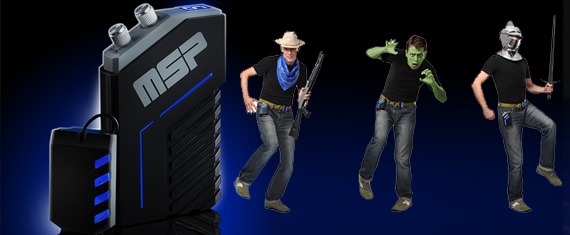 I first used the Mega Stomp Panic over Halloween, and the zombie effects actually caused a few fellow parents waiting on the sidewalk to nervously ask "do you hear that? What's that noise?" I had covered the main Mega Stomp box with my sweatshirt, which muffled the sound a bit but hid the blue glowing lights that emanate from it when turned on. Since it was covered, I was honestly torn about whether to let them stay nervous or lift my sweatshirt to show them where the noise was coming from. Let's just say that the cool-looking cats got to see the source; I forced the rest to stand there in a state of mild panic.
So that's my fun story, but what about the boys? Well, if Halloween was my time to play, they've had the entire time since, and they're certainly loving every minute of it. As for Mom, she's not really a fan because the volume truly does go up to 11, and that doesn't normally jive with "indoor play time." Outside of that, though, the only thing that might downgrade an overall score for the Mega Stomp Panic is its battery life. I went through a full set of batteries in that one Halloween night (about four hours total), and the boys tend to go through brand-new batteries once per week depending on how long they play with their soundtrack backdrop. The life seems to extend somewhat if you keep the volume lower and don't switch between sounds very often, but as you can imagine, those are hard requests for two young boys to fulfill.
Still, for the mere price of $40 you can help make the dream of some kids (and kids at heart) come true with their very own real-life soundtrack. I'd love for the next version of the Mega Stomp Panic to support additional effects and perhaps even the ability to mix your own music with walking and other sound effects. Even without that functionality, though, the current version of the Mega Stomp Panic is an absolute riot, and I've no doubt it would make a fun, unique gift this holiday for the pop-culture fanatic in your home.
Score: 9
— Wade Wheeler