Sony's new PlayStation Vita has a variety of firsts for a handheld system, and its touch-sensitive rear cover is in fact a first for the whole industry. When it comes to the actual game-playing experience, the PS Vita's use of two analog sticks is a welcome addition to the handheld landscape, and few of the system's launch games demonstrate how refreshing it is to have both thumbsticks better than Super Stardust Delta.
Stardust began its days as a downloadable title for PlayStation 3, billed by some as Sony's answer to Geometry Wars, which took the Xbox 360 world by storm when it appeared as a sort of "Easter egg" in Project Gotham Racing. One thumbstick controlled your ship, one controlled its direction of fire, and the high-color action unfolded with retro vector-like style. It began simple enough, with colorful explosions filling the screen, while later levels got some pretty advanced enemies and were almost distracting with the amount of "stuff" going on on-screen.
Fast-forward to this week, and Super Stardust Delta has launched as a downloadable title alongside the PS Vita, a staunch reminder of why we love pick-up-and-play games and a clever launch-window inclusion to showcase the PS Vita's innovative hardware. Geometry Wars and Stardust required two thumbsticks; it would've been impossible to navigate their fast-paced action on a handheld using a single touchscreen and/or face buttons alone. Only with the PS Vita does a game like Stardust become feasible on a handheld. And boy, are we glad it is.
The core gameplay hasn't changed all that much: one thumbstick controls your ship's movement, one controls the direction in which it shoots, the X button can be used to activate a "kill everything on the screen" bomb, and the enemies and challenge ramp up the farther you advance. Depending on the type of enemy you kill, the game drops power-up orbs that give you upgraded weapons, temporary firepower boosts and/or extra lives. The weapon upgrades can affect either your fire or ice weapon, underscoring one of Super Stardust Delta's most rewarding gameplay elements: the need to switch weapons on the fly to be successful in any given level.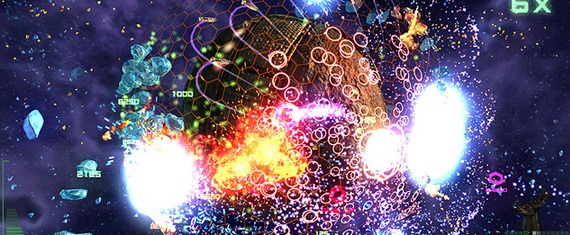 Fire-based enemies or obstacles are red/orange, making them clearly distinguishable from the blue-colored ice enemies. Your ship's default weapon shoots fire, which can technically kill anything but is most effective against fire enemies. By pressing the right shoulder/bumper button, you can equip the ice weapon and thus defeat ice enemies more quickly — a necessary technique when you have hundreds of enemies swarming you at once.
Super Stardust Delta throws different enemies your way at any given time, as well as different environmental obstacles (think of the rocks in "Asteriods" and you'll get the picture), so juggling your equipped weapon is an important gameplay element. Although not a complicated mechanic, it definitely adds a layer of intrigue to a game's that would otherwise be predicated on spinning your thumbsticks around just aimlessly blasting at stuff.
The game's graphics do a great job showcasing the PS Vita's gorgeous OLED screen, with vibrant colors and explosions that make you forget about the fact that you're playing on a five-inch monitor. Considering all the action going on at once, there was a serious risk that certain elements would get lost or overlooked, resulting in more than a few cheap deaths. The OLED screen doesn't let this happen, perfectly capturing the crisp edges and smooth lines required of a game like Super Stardust Delta and never letting you miss a beat of the action. The level of clarity and detail is nothing short of remarkable, even for a game that's essentially based on vector art.
With disc-based games like Uncharted or ModNation Racers launching alongside the PS Vita, downloadable gems like Super Stardust Delta are liable to get overlooked. But if you're looking for a solid, entertaining and downright impressive experience — whose dual-thumbstick gameplay can be enjoyed via multiplayer, no less — you're doing a disservice to yourself if you overlook Super Stardust Delta. This is definitely one PSN game you'll want to pick up when you grab your PS Vita.
Score: 9 — Addictive gameplay that demonstrates the power of having two thumbsticks on a handheld device. The multiplayer options are more than adequate, and although there aren't technically a lot of levels, the very nature of the game will keep you coming back time and again.
Platform Reviewed: PlayStation Vita