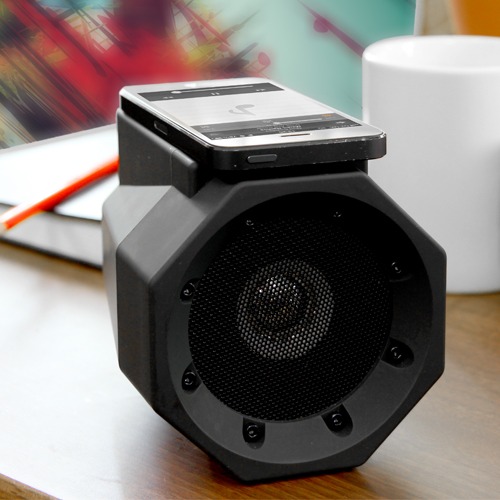 Gone are the days when speaker wires were all mess. With the latest wireless technology of the Boombox speaker which is the top budget Bluetooth speaker, portability has scaled new heights. With portable, anything is possible. Going to the beach? Having a barbecue? Play music wherever you go, as often as possible.
Take this thing around, and play your favourite music tracks from your phone or any other device that has a speaker built into it. Place your device on the speaker. Voila. You have done enough to get amplified sound output. Believe it or not, this speaker does amplify the music manifold, and magnify the sound to a greater scale- all that without any cords or connections.
The Thumbs up Boombox Speaker is built out of latest technology that allows it to interact with any device having a speaker, and the kind of boost it gives to the input sound is a testimony to the advent of what sound amplification technology has grown up to be these days. Not many wireless speakers around boast of a reliable battery. But this thing comes with an in-built rechargeable battery that gives 10 hours of bazooka-music (per charge) even if you have pumped up the volume to the max.
Let's look at some specs now.
Compatible with most of all latest smart phones, and music play-back devices with external speakers
Inbuilt rechargeable Li- ion battery: 3.7 V, 850 mAh
Can play 10 hours of non-stop music per charge
5 mm jack
Box contains a USB charging cable
The Boombox speaker is certainly not the lightest or the smallest unit around, but the sound output it produces is too good. Speaking of price, at it is not the cheapest in its class. But, hey, quality comes at a price, you know. The combination of powerful music, attractive pricing, and ease of use makes owning it a worthwhile experience. Go for one. You'll not regret later.