I'd been skeptical about Pixar's Cars 2 movie since the first trailer hinted that it may be little more than a James Bond spoof. Knowing Pixar, I figured that wouldn't actually be the case, but it was the first time I felt cautious about a film from the storied studio. I was also skeptical about Cars 2 The Video Game, thinking it would either be a fast-tracked movie tie-in or a racing game with little depth. Well, Cars 2 The Video Game is not only a great entry-level racer for young Lightning McQueen fans, but a surprisingly solid 3D title with more gameplay than expected, bringing an extra level of intrigue for adults as well.
Cars 2 plays a lot like the love child of Burnout and Mario Kart, with a host of race modes and "big boy" mechanics sprinkled with youthful flair and outlandish tricks. In some respects it feels like a "gateway drug" to the more adult-oriented racing games, because it includes nuances such as drifting and alternate routes but presents them gently and via cartoon-like graphics. It does seem a bit basic at first, but Cars 2 eventually ramps up in difficulty to offer some challenge to anyone other than the hardest-core racing-sim junkie.
The game begins with a multi-stage tutorial of the various tricks, weapons and driving techniques, then opens into a series of maps and modes that span the globe. Players have free reign to choose the maps and modes they most enjoy, with the one caveat that all vehicles aren't unlocked at once. Depending upon the player's position at the end of the race, the victory will earn a varying number of points that accumulate like XP to open up new maps, locations and vehicles at certain point-based milestones. The vehicles don't seem to handle much differently from one class to the next, and they're all able to pop wheelies, drive backwards, jump and do mid-air tricks to accumulate boost. Each car also has access to the same weapons, which range from machine guns and rockets to oil slicks and massive lasers that blast the leader from the sky.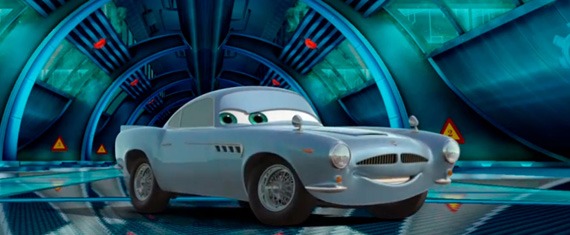 Cars 2 The Video Game has 10 different gameplay modes, which is a decent number to begin with but even more impressive when you consider that this is likely to be viewed as a kids game. Most of the modes are familiar to racing-game fans, including a straight-up Race Mode, a Battle Race Mode (with Mario Kart-inspired "spy weapons"), a Hunter Mode that requires cooperative players to survive waves of enemies and an Attack Mode that sees players chasing-down a set number of enemies before time runs out. Probably the most unique mode is Survival Mode, which has players collecting boost-friendly batteries to avoid a pursuing laser beam from the sky.
The multiplayer modes are ripped straight from the realm of multiplayer shooters, which is funny but cool to see in a racing game. The first is a Battle Arena, which equates to a deathmatch, while the other is a Disruptor Mode, which is sort of a team-based King of the Hill mode in which players must defend their base from enemy attacks.
Oddly enough, you don't really need those official multiplayer modes to have fun with other players, because pulling off tricks mid-race and competing for style is just as much fun as competing for position. Tricks are as easy to pull off as flicking the thumbstick in any direction, with the results ranging from barrel rolls and front flips to driving backwards and cookies. It's also possible to shunt enemies off their line, which doesn't really do much — due to some minor rubber-banding to keep races tight — but sure feels good.
If you've got a 3D TV, you've absolutely got to play Cars 2 The Video Game in 3D. There are a few instances of crosstalk, which is something you generally only encounter on Blu-ray 3Ds, but it's generally relegated to the menus or pre-race intros, with the in-game stuff looking great. Part of the reason the 3D is so good is because the graphics are justifiably cartoony and basic, which gave the developers the ability to force the perspective at times and present obstacles that pander to the 3D "gotcha" effects while still getting the job done. The 3D effects in Cars 2 actually kept me playing an additional few races each time I fired-up the game, and I even watched some of the post-race replays. I never do that.
Then again, I never expected the game to elevate above the movie tie-in tedium that generally befalls licensed titles, and it absolutely does. Cars 2 The Video Game isn't going to sate the Gran Turismo or Forza Motorsport fan, but it will absolutely suffice for Son (or Daughter) of Forza Fan, and maybe even for a few older gamers too — if you can get over racing the world as Mater. Of course, millions of people play as a mushroom-capped Toad and egg-eating dragon, so maybe that's not going to be much of a stretch.
Click the following links to check the latest pricing on Cars 2 The Video Game at Amazon:
Score: 8.7 — A surprisingly good racing game, and not just because it's a licensed title, that also happens to have fantastic 3D effects for those who have a 3D TV.
Platform reviewed: PlayStation 3