Like many movie-based games, Disney Pixar's Brave video game borrows most of its situations from its big-screen brother, and as is the case with Disney tie-ins in particular, it's tempting to think the game's designed solely for kids. Well, I'm an adult, I saw the movie, and I enjoyed the game. In fact, I was curious if the fact that I had seen the Brave movie would help me at all or sway me one way or another as to its quality of gameplay. As it turns out, you don't need to see the movie to understand the game, although the game does contain spoilers, and the inclusion of several difficulty levels make it enjoyable for kids as well as adults.
There are three parts of gameplay in Disney Pixar's Brave video game. The majority of it is playing as Merida as she fights her way through the levels melee style, using both a sword and a bow and arrow (which thankfully aims automatically). For short sequences in each level, you play as her three younger brothers and must solve a puzzle, with each puzzle getting more challenging as you progress. Lastly, there are predetermined times in the game where Merida becomes overrun with enemies, and the scene cuts to Merida's mother entering the scene as a bear — which lets you play from the bear's perspective. When you play from this perspective, you pretty much annihilate all the baddies with minimal effort. I will not lie: these parts are VERY fun, and they're spaced far enough apart so they don't feel redundant.
The controls are fairly intuitive in each gameplay mode, and they're explained well in the beginning. Actually, while getting used to the game, I thought the controls were similar to Super Mario, but that could just be me. One aspect of the controls I found a bit unnecessary was the over use of double jumping. Almost all jumps that need to be done require double jumping, and it made me question why they didn't just program the regular jump to go higher. There are also a few instances in the game where the camera's position makes certain parts of level more difficult than they should be. The culprit here is that the camera seems so zoomed out that it gets very difficult to navigate with any sense of depth.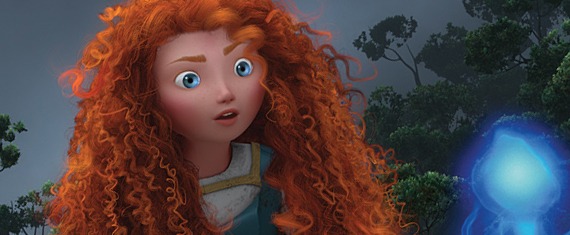 Like the movie — or any Pixar film, for that matter — the environmental graphics are beautiful and engaging. The artwork that isn't in gameplay (the intro screen, the pause screen, cut scenes, etc.) captures the Celtic theme quite well, and is very hard not to appreciate the artistic effort involved in creating it. I will say that I was disappointed in the quality of modeling and animation of Merida's hair (the level of detail in the movie was astounding, whereas the game's Merida had hair that kind of looks like paper streamers). Since most of the game is played from a perspective that is quite zoomed out, the low quality in that one aspect is not really important.
The soundtrack fits with the Celtic theme, and it's not distracting to the gameplay or irritating to listen to for long periods of time. The sound effects in the game were also well made, and none felt mismatched with their action. Aside from the music and sound effects, Merida likes to talk throughout the game. For the most part, when she says something it is helpful, especially in the beginning when you're still acclimating to the controls of the game. After that, however, she kind of talks… and talks… and talks. That is the sole aspect I found annoying in Disney Pixar's Brave game, particularly the phrase "Many a nickel makes a buckle" when Merida collects a bunch of coins from enemies.
Overall, though, I found Disney Pixar's Brave to be fun! Actually, I found the game to be more entertaining than the movie. I think kids and adults can enjoy it, though I don't see too much repeat play after one has beaten it. If I were to give the game a grade, I think I would give it a solid B.
Score: 8.5
Platform Reviewed: PlayStation 3
Author's Note: I feel like for my opinion on any game to be received properly, you need just a tiny bit of context as to who I am. I am a 27-year-old woman from the Pacific Northwest, and I've been playing video games since I was about nine. I tend to go for Role Playing Games, but I greatly enjoy the God of War series, the LEGO games (specifically the Harry Potter ones), Portal and Rock Band. When I find a game I really like, I am ALL IN until I beat/conquer it. For example, last fall I played Skyrim for 12+ hours every day for a month.
– Amber Taylor