Colin Farrell has a decent resume, and his supporting cast in Fright Night aren't exactly chumps, which makes it all the more confusing as to why I wasted 90 minutes watching one of the worst 3D Blu-ray movies ever released. Fright Night is a reimagined version of the 1985 classic, but it's been reimagined to such a degree that the term "classic" will never be uttered again in the same sentence. Fright Night follows a boy named Charley Brewster (Anton Yelchin), who discovers that not only is his neighbor Jerry (Colin Ferrell) a vampire, but Jerry's developed a taste for his high-school buddies and others in his neighborhood. And that's about where the intrigue stops.
Ferrell plays a decent bad guy, mostly because of his brooding and intimidating character, but the rest of the cast falls flat on its collective face. For most of the movie, Charley's on a mission to protect his mother and girlfriend from becoming Jerry's next meal, but the acting, music and script turn the movie into an absolute bore, at times making it laugh-out-loud bad. I've seen plenty of campy films where that's the point, but the goal of the Fright Night 3D Blu-ray was obviously to make a sincerely scary movie. The only thing "scary" here is how bad it truly is.
The 3D moniker doesn't help matters, because the 3D effects are non-existent. The entire video presentation is ridiculously flat, a facet that's accentuated by so many scenes taking place at night and thus not presenting opportunities for contrasting colors and depths. A small handful of "gotcha" effects do exist, but they're so limited in scope and so straight-up cheesy that it only draws more attention to the horrid 3D aspects of the rest of the film.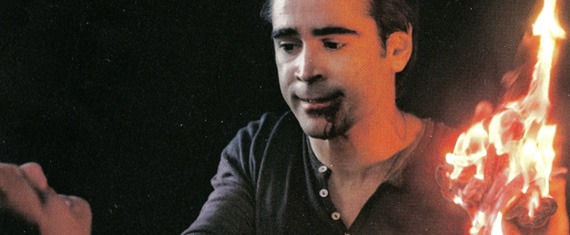 Worse yet, I lost count of how many times the film suffered from crosstalk, that dreaded instance when the left and right "images" fail to align and create an odd ghosting effect. As the 3D Blu-ray technology has evolved, we've seen fewer and fewer instances of crosstalk in films from every studio. In part, that's why the crosstalk in the Fright Night 3D Blu-ray seems so bad – we're just not used to seeing it any more. Of course, that also makes the crosstalk that much more inexcusable, because we know it's avoidable.
There are five deleted scenes, some trivia, a gag reel and various other bonus features, but there's no way for them to make up for the rest of the atrocity known as Fright Night in 3D. This is the only 3D Blu-ray movie I've encountered that was almost impossible to sit through until the closing credits, so the proposition of watching bonus features made me want to gouge my eyes. Do yourself a favor: leave this one at the store. There's virtually no redeeming quality to the Fright Night 3D Blu-ray other than the fact that eventually it comes to an end.
Score: 1