It's tempting to think of the big blockbusters like Pirates of the Caribbean and Green Hornet as the best candidates for Blu-ray 3D, but it seems that fringe, niche and "family friendly" flicks have predominantly gotten the early nod for release on the burgeoning 3D scene. Case in point: Gnomeo & Juliet from Touchstone Pictures, a modern retelling of the Shakespeare classic in which the warring families are yard gnomes. Really.
The theatrical trailers for Gnomeo & Juliet made me laugh out loud and piqued my interest in seeing the film, so its recent release on Blu-ray 3D was a guilty pleasure because I finally had an excuse to watch yard gnomes go medieval on one another. There was a review to write, after all. Fortunately, the film largely lives up to the billing I'd given it — perhaps in part because I didn't really expect cinematic excellence — although the 3D elements leave something to be desired.
The Cliff's Notes version of Gnomeo & Juliet is as follows: a family of blue yard gnomes and one of red are continually searching for ways to interfere with and "one-up" the other family. During one such competition, the families — which live in the backyards of two feuding neighbors — pursue the same exotic orchid because its uniqueness will finally set the victors' yard apart from the other. One young gnome from either side, Gnomeo and Juliet, end up meeting at the orchid and accidentally fall in love. They valiantly battle their own inner demons, then those of their respective families, and ultimately bring the two warring groups together as one big, happy, concrete family.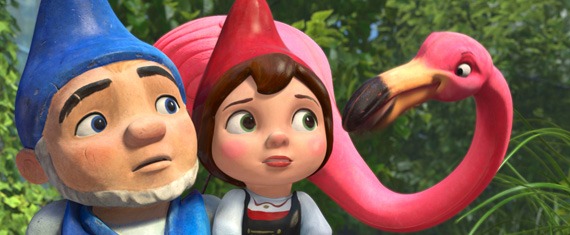 Visually, Gnomeo & Juliet on Blu-ray 3D is something to behold, with vivid colors, crisp lines and a sense of place that rivals what actors can achieve in a real-world set. The character animations are largely believable, and the facial expressions on each of the gnomes, young and old alike, really help distinguish the various emotions conveyed by the characters at hand. Unfortunately the 3D effects don't fare nearly as well, to the point that I and two other individuals questioned several times whether we had the correct Blu-ray Disc playing. This isn't just a matter of the film not including many 3D gags (which is true; it doesn't), it's more a matter of the camera angles not reinforcing the 3D effects and the scenes all being setup more for a 2D presentation than a 3D one. Using Disney's Tangled as a benchmark, which has the best Blu-ray 3D presentation I've seen so far, Gnomeo & Juliet pales by comparison. The saturation, animation and clarity are all on par, but the 3D effects just fall flat. No pun intended.
A few select scenes do deliver some depth, most notably a lawn mower race near the beginning of the film and a "pimped out" lawn mower blowing up both families' backyards at the end. Between those two book ends, though, there's really not much to write home about in the 3D presentation. I'm not one to ask for 3D gags, nor am I one who appreciates filmmakers forcing the 3D issue, but Gnomeo & Juliet needs something to justify its higher Blu-ray 3D price tag. Most scenes are presented with a macro lens that doesn't promote depth perception, and the scenes that are zoomed-in on the characters don't have much in the way of props or facial features to drive home the depth that a 3D TV can deliver.
As with most Blu-ray 3D releases, Gnomeo & Juliet's three-disc set doesn't include 3D bonus features. The bonus features that are present, all of which reside on Disc Two with the 2D feature film, include two alternate endings; deleted and alternate scenes; and several featurettes about Elton John, who wrote the music for the entire film and served as the visual inspiration for one of the funniest-looking yard gnomes in the film. In a satirical sort of way, mind you.
But entertaining bonus features alone don't justify the $10 premium given to a Blu-ray 3D set. In fact, neither do the film's disappointing 3D effects. I'm glad I finally got to see this movie, and I'm confident telling people it's both "cute" and a creative adaptation of Shakespeare's classic. But our Sony Bravia 3D TV is begging for more showcase 3D Blu-ray movies to show off to visitors, and Gnomeo & Juliet just isn't in that category.
Score: 6.7 — Gnomeo & Juliet is an entertaining movie that will bring smiles to most every member of the family, but its 3D aspects just aren't up to snuff with other recent animated films, and at times you'll wonder if you're even watching a 3D Blu-ray rather than a standard one.