The original Goldeneye 007 catapulted the first-person-shooter genre to the stratospheric status it enjoys today. The franchise was good and the N64 graphics were solid, but it was the gameplay –especially multiplayer — that won gamers' hearts. With Goldeneye 007: Reloaded, Activision hoped to capture lightning in a bottle and bring the franchise to a new generation of gamers. The result is a mix of old and new experiences that delivers some fun but can't completely keep up with the outstanding FPSes modern gamers have at their fingertips.
One of the biggest selling points of GoldenEye 007: Reloaded was the rock-solid 60 frames-per-second HD graphics, which is indicative of where Activision spent its time. The core campaign levels have been rebuilt and expanded, and the ever-popular multiplayer modes are now online via PSN and Xbox Live. In many instances you'll feel as if you're playing the original all over, just with a shiny new veneer. That's not necessarily a bad thing for fans of the original, but new gamers — and even nostalgic ones like us who've grown up — live in a world now dominated by Halo, Killzone, Battlefield and Modern Warfare. Reloaded is a graphically updated game but doesn't quite offer enough "original" content or intrigue to really stand out from the pack.
The game lets you hold three weapons at a time, plus grenades, and you have a Bond-ified smartphone that lets you scan or photograph items to complete secondary objectives and feel Double-O Agent-y. But scanning or photographing is a lot like the music-based elements when investigating a crime scene in LA Noire. A visual cue in Reloaded lets you know you're near something important, but you don't know exactly what it is, and poking around aimlessly gets tiring. As in LA Noire, you just end up walking around the room ho-humming until you stumble upon the clue, or in this case, the evidence.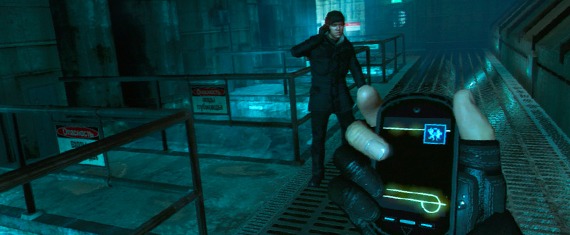 The missions have branching paths so you can run-and-gun or play stealthily, but the linear levels suffer from long hallways that serve no purpose other than allowing the game to cache the next enemy encounter. The enemy AI keeps those encounters interesting, with nice flanking behavior, intelligent use of cover and enemies using every possible route within a level to confuse, circle and corner you. They'll even use grenades on occasion to flush you out, and you'll never find an enemy sitting there idly while you fire at him. All of this makes for a nice mid-mission experience, but it doesn't elicit the same excitement from the N64 days. Again, it's probably because I've become accustomed to those behaviors during the past 14 years.
When you delve out of the campaign, you'll find an all-new MI6 Ops Mode comprised of 11 different bot-filled levels that conjure up memories from the past and "train" you to a degree before you head online for some competitive multiplayer. There are three basic level types in MI6 Mode: Elimination, Defense and Stealth. Elimination is like a big versus map, whereas Defense sees you protecting something from incoming foes. Stealth, meanwhile, requires you to go from Point A to Point B through an entire level without being detected or the game's over.
Elimination is the most basic of the bunch, and you can adjust the number of enemies you have to eliminate, the loadouts, etc. Defense can be a bit more challenging, but it's not until you try the Stealth mode that you really have your work cut out for you. You earn stars based on your time, accuracy, etc. in a given level, and subsequent levels are only unlocked after you achieve a certain number of stars on a preceding map. The maps themselves vary widely in appearance, from lush jungles to industrial facilities and blown-out urban landscapes. The online multiplayer options are standard fare, and although some fun can be had, it's a bit more challenging to find people to play with in light of the popularity of other online shooters.
The multimedia department did a great job bringing the original Goldeneye into the current generation, with graphics that are generally impressive and audio that at least passes muster. The character animations in Goldeneye 007: Reloaded do look really scripted, and guns leave a bit to be desired, but the environments, lighting and character models are all nice. In terms of audio, the Bond soundtrack is always heartwarming, but the gunfire sounds and surround-sound effects are largely understated.
Technically, Goldeneye 007: Reloaded does nothing wrong, and in fact my hat's off to Activision for bringing a classic game to the modern era. The CG production values can't be denied, and the framerate is as solid as Activision said it would be. The gameplay, though, in spite of its tweaks here and there, just doesn't have the impact as when Goldeneye was the one N64 game everyone owned. That original game was the Halo of an entire generation. Now, it doesn't offer enough to differentiate itself from the current Halos of the world.
Score: 7
Platform reviewed: Xbox 360