I'd heard the jokes about Green Lantern, that watching the movie was merely an excuse to laugh at Ryan Reynolds after his breakup with Scarlett Johansson. I had no attachment to the comics either, meaning my interest would only be piqued by a great theatrical preview and good word of mouth. Well, Green Lantern came and went, so apparently my line of thinking wasn't alone. Now Green Lantern has appeared on Blu-ray 3D, giving those who missed it theatrically a chance to see Green Lantern in its 3D glory on the small screen. The film does have a few miscues in the Blu-ray 3D format, but it definitely carries more merit than being a mere vehicle to laugh at Reynolds' misfortune.
The Green Lantern Blu-ray 3D package contains multiple discs, including the original theatrical cut and an extended edition. Unfortunately, the theatrical version is the only one presented in the Blu-ray 3D format, whereas the extended cut and theatrical cuts are both available on the standard 2D Blu-ray Disc. Nor are there any 3D bonus features, which is generally par for the course, although Warner Home Entertainment has released at least two Blu-ray 3Ds with classic Looney Tunes cartoons presented in the 3D format — a really nice touch that I was hoping to see repeated here on the Green Lantern 3D disc.
The Green Lantern is a bit of an odd duck when it comes to modern superhero movies: it's about 5 percent action and 95 percent character development and romance. Normally romantic comedies present some of the sharpest Blu-ray pictures, and in line with those chick-flick kin, the visual fidelity in Green Lantern's non-action scenes is impressive. Yet from a 3D standpoint, which is the purpose of this review, there really isn't that much to judge. Green Lantern's action sequences do a good job of presenting depth; it's just that there aren't that many of them to talk about.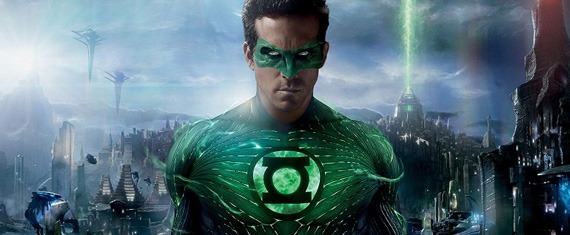 Problem #1 is that deep space scenes don't give the filmmakers a chance to showcase 3D effects because there's not much to which viewers can compare characters' relative depth. The dialogue-heavy scenes — again, which comprise much of the film — also fail to show much depth, though they did lead to the observation that Green Lantern has an almost "animated cel" effect.
I've only seen this phenomenon a few times in Blu-ray 3D films, where characters appear to be on a different layer than the background imagery. It's not necessarily depth, per se, because it doesn't make the scene seem real, but it does give off the sense that the scene isn't in 2D. It's essentially like watching an entire film knowing the green screen effects weren't as polished as they could've been. It's not really immersive, and it causes you to "leave" the film mentally to process what's going on visually. If Warner wanted to achieve a sense of the scenes not being two-dimensional, then "mission accomplished." But Warner didn't really deliver an immersive 3D scene either. It's sort of a multi-dimensional no-man's land.
For the first 30 minutes, there really isn't that much 3D, although there are some interesting effects in a family kitchen. Ironically, in fact, it's not until the 40-minute mark that the best 3D appears — in a pseudo-romantic dancing sequence between Ryan Reynolds and his would-be girlfriend pilot, played by Blake Lively. At that point, once Ryan Reynolds officially becomes a Green Lantern, the 3D starts to appear more regularly.
One of the reasons for this is the Green Lantern's ability to fly. The best 3D effects are those in which an object moves on the screen without any obstruction by the outer edges of the TV screen. In the Green Lantern Blu-ray 3D, Reynolds is always fully framed in the image, making him and anything else around him really pop whenever he's flying. The problem is that until the film reaches the 1:25 mark, there are really only a few select scenes that maximize that in-flight depth. So much of the film is focused on coming-of-age elements and romance that the flight-based action doesn't get center stage until the climactic final scenes.
Now, those last 20 minutes are awesome, and if you're purely looking for a 3D experience, you should skip the rest of the film and head straight for the 1:30 mark. It's at this point that the villain's stormcloud-like form envelops the city and careens through the street gobbling up everything in its path. There's also a great 3D sequence in an asteroid belt a la Empire Strikes Back, a riveting laser battle with great projectiles, and some nice space-based combat that manages to deliver a great sense of depth.
But then, just as quickly as it began, the 3D effects are over, and you're back to romance and character development. This isn't necessarily a bad thing from a movie standpoint, but from a Blu-ray 3D standpoint it's a bit of a disappointment. The 3D closing credits are by far the best ever released, but it just seems to show how much more the filmmakers could have done with 3D than they actually did. Warner clearly put the time into generating surround-sound effects that perfectly complement the 3D effects. It just would've been nice to see the rest of the film live up to the standards set by that 20-minute 3D climax, not play in a pseudo-celluloid realm best left to Disney.
Score: 7.5: About 20 minutes of Green Lantern provide a rock-solid 3D experience, but the rest seems oddly green-screened and fake rather than immersive with a real sense of depth.