It's very nice to have the Master Chief back where he belongs in the Halosphere. The past few entries with Bungie at the helm have dabbled with other Spartan and Helljumping characters, but with 343 Industries now steering the ship, Halo 4 brings the franchise back where it began: Master Chief and Cortana battling to save the universe and themselves. It's that second bit that creates the most intriguing elements in Halo 4, the reasons for which I'll get into later, because everything else feels instantly familiar. The trouble is, since this is the fourth Master Chief game, that familiarity isn't a good thing. Halo 4 struggles to serve too many masters, resulting in jarring gameplay elements that detract from an outstanding narrative. In fact, Halo 4 would've been a better film than videogame, because the other, newer FPS franchises have far surpassed this once-premier series.
The first Halo was adored for three things: its diverse gameplay (minus the Library), its multiplayer elements and its narrative. Halo 4 will be remembered fondly for only the last of those three. Like the first GoldenEye, the original Halo showed that the first-person genre could be done well on a console by making great use of the controller and by presenting unique scenarios that used the full range of gameplay mechanics. Unfortunately, while Halo 4's controls are pretty standard fare, the gameplay scenarios you'll encounter serve more to pull you from the experience than to draw you in, forcing you to think consciously about the controls rather than to naturally use them.
Much of the game is comprised of inexplicably massive areas that serve no purpose other than to show off environmental rendering capabilities, while empty corridors and "press X to open the door" prompts serve as loading crutches far too often, interrupting what little flow you may find in any given level. Backtracking is alive and well too, and though it's not to the extent of the original Library, it happens with enough regularity that you'll literally think "OK, I'll fight through this room again in about 10 minutes." 343 Industries injects several vehicle sequences to break up the FPS action, but each of them feels forced, out of place and lacks the level of polish found even back in Halo 2. Add to all of this the fact that Covenant and Forerunner weapons are essentially reskinned versions of the same thing, and you'll feel cheated at the lack of overall creativity. The result is the feeling of slammed-together gameplay that does the entire campaign a disservice.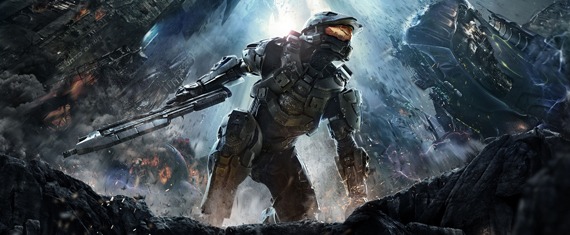 Multiplayer picks things up considerably, but that's to be expected with the Halo series. The Forge level-creating tool returns in Halo 4, and although it's not as intuitive as franchise newbies may like, it serves its purpose well and gives Halo veterans some new toys to play with, such as the ability to create areas on the map that have special effects such as low-G. Matchmaking and its various competitive gameplay variants return in full force, with players able to track all manner of statistic for bragging rights among their friends. The most enjoyable multiplayer mode, though, is also the newest for the franchise: Spartan Ops.
In Spartan Ops, players work through non-Campaign levels that take place six months after the events of Halo 4. These episodes don't feature Master Chief and Cortana, but instead have players hop into the boots of other Spartans battling Covenant forces. Each mission can be played solo or cooperatively, but co-op is really where Spartan Ops shines. New episodes will be released periodically, extending the Halo 4 experience like DLC, only it's built into the game. It's an interesting model, and it seems like a great solution to all those people who claim that release date DLC is a ripoff (since Spartan Ops is free), but we'll see how it plays out over the next few months.
Where Halo 4 makes its greatest impact is the story, a welcome turn of events in the FPS scene. Very early in the game, Master Chief and Cortana encounter a new enemy, the Prometheans, and they quickly get cozy with various members of the Forerunners, answering several key story questions along the way. Even more intriguing, though, are the relationship between Master Chief and Cortana, which gets more complex in Halo 4 than any previous outing, and the pseudo vulnerability of Master Chief as he navigates issues related to his age and connections to Cortana. I can honestly say the character development and evolution in Halo 4 is the best the industry's offered in the past year. In fact, they make the gameplay issues all the more troubling, because I would've liked to see 343 Industries focus even more on their narrative direction. Fire the game designers, give the writers a raise, and let the franchise go the way of CG movies and live-action vignettes. 343 Industries knows where it wants to take the story, and it seems to be able to take it there admirably. Their gameplay capabilities just get in the way.
Consequently, I'm torn with how to rate Halo 4. The narrative is outstanding, even in spite of a few plot-point missteps, and the character evolution of Master Chief and Cortana deserves to be further explored with these wonderful storytellers (well, maybe one of them can't happen, but I'll avoid spoilers). However, the gameplay feels jilted, awkward and unrefined, three unforgivable sins in a landscape populated with other quite-capable FPS franchises. As a result, I'm going to average everything out: great story plus bad gameplay equals an average experience. And in this overcrowded FPS genre, "average" is isn't something I'd recommend buying.
Score: 7.5
– Jonas Allen
Platform reviewed: Xbox 360 (console exclusive)