As one of the most revered first-person franchises around, the Call of Duty series has a reputation to uphold. Naturally you know it's safe to expect high production values, particularly with the Infinity Ward-developed entries like Modern Warfare 3, but you also know not to expect Activision to rock the boat. After all, why change a franchise that's set multiple all-time sales records? I certainly won't argue with that logic; making money is why developers and publishers release games in the first place. But as a gamer, not an investor, I couldn't help feeling like Modern Warfare 3 is the same game I've been playing for more than five years.
I had the same feeling playing Gears of War 3, as I mentioned in that review, and although both Gears 3 and Modern Warfare 3 are outstanding from a technical standpoint, they both left me feeling a bit flat. A similar sentiment arose from many MW3 fans shortly after its release, so I'm not necessarily saying anything new. I purposefully waited for that initial fervor to wear off before processing my thoughts, because I didn't want to be influenced by them. But you know what? My thoughts upon first firing-up the game are identical to what I feel now, weeks after its release and shortly before Christmas. For franchise newbies, Modern Warfare 3 is an amazing FPS experience. For anyone who's played the series for a while now, it really feels like more of the same.
The plot is classic COD, but it's been improved a bit this time around. In MW3, the world is embroiled in a global war, and players must span the globe and assume the personas of multiple soldiers from different countries to subdue the forces behind the war and save all the national leaders who've gone missing in the process. Modern Warfare 3 picks up exactly where MW2 left off, although it's not so confusing a plot that series newbies will be lost.
Depending on the protagonist's nationality in each level, gamers play through that soldier's experience as his nation's part of the global puzzle unfolds. Things start in a Russian submarine, but as the game advances you'll do battle in dense urban settings, in shantytown African villages and even on board an airplane. The environmental diversity is easily the most impressive in the Modern Warfare series, and it lends itself to various weather effects, enemy models, weapon types and architectural styles.
In classic Call of Duty style, the background busy-ness and set pieces in each level are nothing short of awe-inspiring, and the scripted events will leave many gamers gasping for breath and flexing their fingers when the screen fades to black. Yet a different aspect of scripting — the checkpoint-like system for enemy spawning — was the first sign that Activision and Infinity Ward played it safe with MW3 rather than pushed much advancement.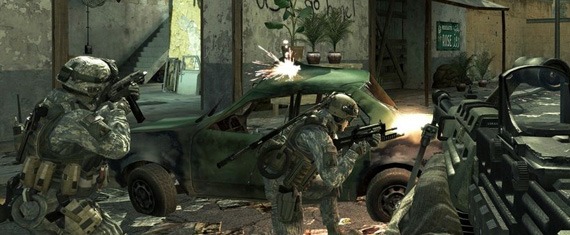 For at least the past five games in the COD series, enemies have spawned infinitely until the main player reaches an invisible "checkpoint." For example, in one of the game's urban settings, players encounter a war-torn alley where snipers and ground-based enemies spawn out of several buildings. Players can sit there all day taking out the snipers and blasting away at ground troops, but the enemies won't stop spawning until the player reaches a specific building down the alley. In many other shooters there are a finite number of troops, and when the player kills them all, the coast is clear to move down the alley. Not in COD, and not in Modern Warfare 3. In all honesty, there were several instances where I chose to sprint down the road far enough that enemies stopped spawning, then I turned around and started firing. In one horrible case, I even passed a checkpoint and the enemies flat-out disappeared. This is a game about war, not the Rapture. That sort of gameplay feels really old and cheap, and it's one I've wished would be corrected for at least the past three years.
Then again, Modern Warfare has gained it biggest following online rather than off, and that's where Modern Warfare 3 has received most of its updates. Various killstreak bonuses still exist, but they're not tied specifically to kills anymore, but to the milestone or achievement that best meets your play style (Assault, Support or Specialist). Weapon perks are still around, but now they're tied to individual weapons so players are rewarded to a certain degree for finding a favorite weapon and sticking with it. And finally, an all-new multiplayer mode has been added called Spec Ops Survival, which is the MW3 version of Horde mode.
As nice as those changes are, though, couldn't they have been achieved via DLC? Are they revolutionary enough to warrant a full release? Wouldn't the development time have been better spent fixing some of the series hiccups (or crutches) that have existed for half a decade? That last question was rhetorical to a certain degree, but it's worth asking. Modern Warfare 3 is technically excellent, and the game clearly has its fans, but I'm personally ready to see the series evolve more than it has.
Score: 8.5 — The production values are great, the plot's intriguing and the multiplayer is as solid as always, but several "as always" aspects of the gameplay are starting to feel old. The game's good, but I'd love to see the franchise evolve a bit.
Platform reviewed: Xbox 360