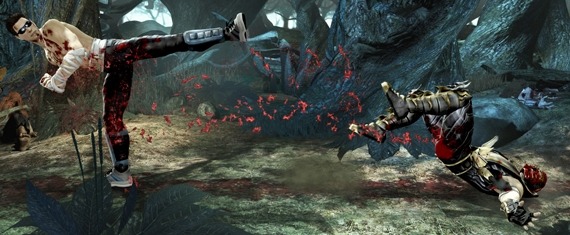 When Mortal Kombat first stormed arcades in 1992, I was confused, disgusted and delighted. Seeing people pulling off some insane heart and spine tearing out moves was nothing short of mind-blowing. It was the first time I had seen anything that violent in a game(I had seen a dude's trachea get ripped out by Patrick Swayze in Roadhouse though) , and the first time I was able to control the action like that. As mentioned in my Super Street Fighter IV 3D review though, my fighting game skills were low compared to most, so when it came to playing Mortal Kombat I gravitated towards Scorpion due to the ease of pulling off his signature spear throw move.
Throughout the iterations of the series and its missteps (Mythologies, I'm looking at you), I stayed in the background just watching. The move to a 3D playing field wasn't something I was keen on and the addition of multiple stances and weapons took too much away from the gory and relatively simple Mortal Kombat I had grown to love. It seems though that the developers also started feeling the changes were detracting from what made Mortal Kombat special, and the 9th game in the series looks to get back to basics – and to top it off, the game is slathered in awesome.
The fighting mechanics in MK9 are straight forward and simple, if you've committed the moves from early versions of the game to memory you'll be stepping in here right away pulling off some great combos and special moves. Much like Street Fighter IV, gameplay is back on a 2D plane with 3D rendered backgrounds and characters, and the gameplay is much faster paced and exciting because of that. Even with the standard Dual Shock 3 controller, moves were very easy to learn and perform using either the D-pad or the analog thumbstick. For those new to the series, which chances are there will be a few, move sets for each character are included in the pause menu including a Fatality combo. Other Fatalties can be unlocked by spending points in the Krypt, but those are randomly found unless you opt to use some online map of the locations.  What else can be said about the gameplay – it's the Mortal Kombat I used to play prettied up and streamlined; and it's won me yet again over after almost 20 years.
Mortal Kombat always seemed to be loaded with hidden content and modes, this version is definitely included in that list. The Krypt features literally hundreds of pieces of artwork, renders, and storyboards of fatalities mixed in with the useable items like alternate costumes and fatality codes. Earning the points to unlock the items is as simple as playing the game in one of its modes from the various challenges in the 300 level high Challenge Tower where you'll be facing various tasks like taking on 20 clones of Baraka, various Test your Might or Test your Sight modes, and the craziest being Test your Luck; where a slot machine spins before the level and whatever result comes up must be followed. I've seen arms lost, health dropping from the sky mid-round and even inverted gravity. The "Test Your.." levels also unlock their own tower as you beat them in the Challenge Tower, just in case you want to revisit these.
The standard Arcade mode is back again here – with each character making their way through the Mortal Kombat tournament and ending (should you win) with a character specific cut scene. The real meat of the single player mode though is the amazingly well put together Story Mode. This mode is divided into multiple chapters each which focuses on a single character and takes them through three separate fights. These fights are spread between some great, if not extremely campy, story scenes taking players through the Mortal Kombat tournaments of the past – all told through the eyes of Raiden who sent himself a message from the future.  Sure it's rough to keep changing fighters every couple of levels, but what better way to get (re)acquainted with the roster and relive a trip down memory lane? I for one had a blast tearing through here seeing the origin stories of many characters weaved into the plot. Developers take note – this is how you do a story mode in a fighting game.
Fighting against friends locally is just as much fun as it used to be – time flies by as you exchange blows, perfect characters and then mutually agree to start anew with a different character. But the same old adage applies, if you tire of this mode from previous excursions there's nothing here that will change that – save for reverting to single player mode and busting through the tough challenges that await you.
I'm going to be recommending this title based on the Story Mode alone – I've had so much fun going through time with these characters that I'm almost tempted to crack open the movies and watch those again. Almost. The silky smooth combat combined with the classic twists on the fatalities in the game, of which there are at least two per character not including stage specific ones, and naturally some hidden things that I don't want to spoil here. Here's to hoping that the PSN issues are resolved quickly so Playstation gamers can also join the fray online, because this is one game that is sure to have a pretty serious following.
Score 9 / 10
Platform reviewed: PlayStation 3
Worth noting– this is all based on local multiplayer and single player games, as the PSN was down so some modes were not able to be tested like the King of the Hill mode and straight up online multiplayer.
[nggallery id=48]