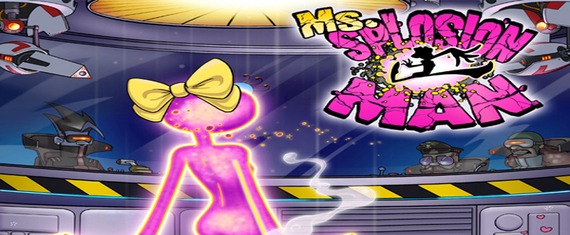 It's not often that a sequel comes out and doesn't just add a 2 to the end of the name, and when it does happen chances are still high that it's the same ol' characters and settings. Twisted Pixel on the other hand took a sequel idea, and ran with it while giving a nod and a wink to one of the most revered video games in existence at the same time. Enter Ms. Splosion Man.
If you ever played Splosion Man you know exactly what you're getting into with this quirky followup. Sure, things are changed around this time with Splosion Man being captured by the team at Big Science; but in their joyous celebration a slight accident took place which gave birth to the radiation based, Ms Splosion Man. While the material has changed, the premise is still the same – run, 'splode up to three times before needing a recharge, and cross the finish line on each level. It's a very simple game to learn but just like the first it's tricky and likens back to classic arcade gameplay styles where you are forced to die, and retry sections until you master each jump and timed splosion with precision.
As with any good sequel it should take what worked in the predecessor and enhance it, and Twisted Pixel did just that here. Yes, the countless exploding barrels are back, but this time around they are used in conjunction with a slew of new gameplay tweaks. Puzzles are a huge part of the gameplay, and the changes to the title are really worked into the puzzling aspect – such as trampolines, ziplines (which are a complete blast to cruise on), rocket propelled cars and my favorite, a robotic character (complete with theme song) which you can inhabit as Ms. Splosion Man to help make it through some radiation sapping sections of the levels.
The game is still as tough as nails, requiring many attempts to make it through some sections due to timing restraints or just plain tricky parts. It's never crushingly difficult and the satisfaction with clearing a section is always there when you do finally make it past that difficult part. For the times when a certain checkpoint seems impossible, a cheat is again here which warps you to the next checkpoint – but beware of The Curse that's cast upon you for the rest of the level.
My only gripes with the title are some of the vocal work that Ms. Splosion Man has. It's not that it's poorly done, because if there's something that Twisted Pixel gets perfect, and I mean PERFECT in all of the titles I've played so far it's the audio. The problem I have is that Ms. Splodey's quips repeat a little too often, and are very gender based. Beyonce, Spice Girls, and even Willow Smith songs are quoted; which while yes, makes sense because you're playing a female character – but given the audience of the title (predominantly male) some of this will be either lost on them, or as my was case turned down while playing, which is a damn shame because the background music in this game is absolutely stellar. For the record – I had to Google the Willow Smith lyric because I had no clue what 'whip my hair back and forth' meant.
Multiplayer mode is also present, and contains completely unique levels and a different ending than the single player campaign, so grab a friend and go it it. No friends? No problem! The previously promoted 2 Girls 1 Controller mode is unlockable in The Mall, and is a crazy way to punish yourself or get really intimate with a friend. The other unlockable items in this game are simply outstanding – not to be missed are the alternate Powered by Beard introduction, and some classic Splosion Man credit green screen work. As with other Twisted Pixel titles, the songs unlocked here are also not to be missed; thankfully the mall doesn't make it too difficult to unlock all these items as they are reasonably priced a with only a few that will require some budgeting of your unlock points.
Priced at a very accessible 800 Microsoft Points anyone who enjoyed Splosion Man needs to pick this title up, and if you haven't played Splosion Man before either buy that one or just buy both, you won't be disappointed if you enjoy tough, yet rewarding titles.
Score: 9
Platform reviewed: Xbox 360