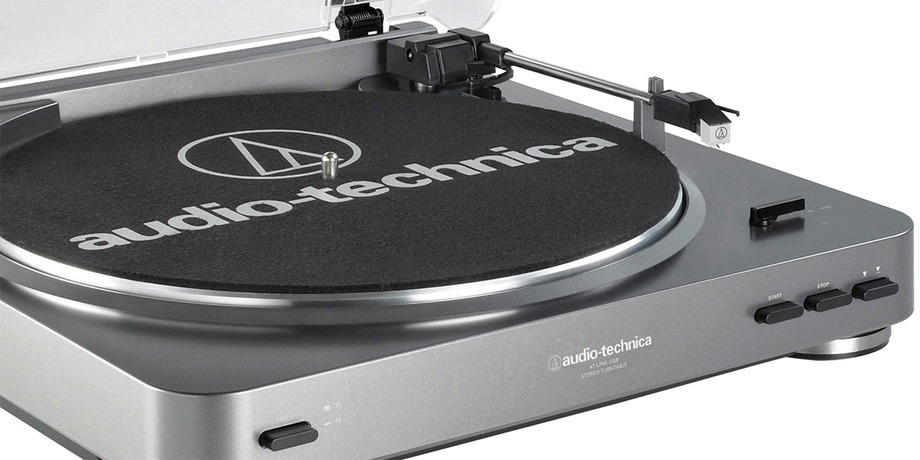 Audio-Technica is company that has been making phono-cartridges for decades; but a latest product that has been getting a lot of attention is their AT-LP60 USB automated belt-driven turntable that has a USB port. It is used to digitize vinyl recordings. You can hook the turntable to a stereo amplifier, your computer, boom box or any device with an analog audio input.
Who is it for?
Vinyl LPs are making a comeback, which is why companies like Audio Technica have been making products like the AT-LP60.  A lot of people still own vinyl records and old-school turntables are hard to find. The AT-LP60 is easy to operate so it is an ideal thing to have if you have a collection of vinyl records or if you would like to be acquainted with vinyl.
Design and features
The AT-LP60 uses a belt drive system. This means the turntable's pulley system uses a "belt" to drive or spin the platter.  This turntable is small and compact. and weighs only 6.6 pounds and measures 14'' square x 3.8'' high.
Unlike most entry-level turntables, that have ceramic cartridges this one has a magnetic cartridge. With a magnetic cartridge you can expect to get better audio output signals that are low level and will need to be amplified. This is why you need a preamplifier. The turntable has a built-in phono-amplifier but you can also select an external preamplifier by flicking a switch located on the rear panel.
There are only two playing speeds on the AT-LP60, 33 and 45 rpm. You cannot play 78 rpm records.
The platter on the AT-LP60 is made of Aluminum. The Turntable is equipped with an automatic tone arm and a 0.6 Mil spherical diamond tip stylus. The diamond tip will give you 400 hours of playing time before it wears off.
There are two record selections 12inch and 7inch but you can still play other sizes like 10-inch. To do this you will have to manually move the tone arm to position the needle to the beginning of the record.
This is an entry-level turntable priced at a competitive price of $99. There are few products that are priced as low as it has been.
Pros and cons
This turntable is priced at an ultra-low price. It has great features like the built-in phono amplifier, a replaceable stylus and plays 7-12inch records with precision. Unfortunately the built-in phono cartridge cannot be changed which means you can only upgrade other components like tour speakers to get a better sound quality.
Verdict
This is a great product for anyone who loves vinyl and has a great collection of Albums or anyone who wants to start playing vinyl records. It will give you excellent sound quality without hurting your wallet.