With a need to pass the time between making holiday dishes this Thanksgiving, I found the interestingly named Rubber Tacos, the new physics based puzzle game by Sava Transmedia which is free on Facebook and iOS devices. Rubber Tacos sets up a story where (from what I understand) a family of Luchadors are having a picnic when a Piñata dog zooms by and steals all their peppers and runs off. That leaves the family to chase after the Piñata dog, and picking up peppers dropped along the way.
Gameplay consists of bouncing your Luchador across the level to collect the dropped peppers. In order to do so, you have to launch your Luchador at the right angle with the right amount of force (determined by how far you pull back from the launching platform) so they bounce of each successive trampoline in the right direction. As you progress through the levels (which increase in difficulty with extra obstacles), you unlock power ups that help you through the increasingly difficult levels. You also unlock different members of the Luchador family (complete with their own individual powers) AND the ability to build your own levels and share them with the world.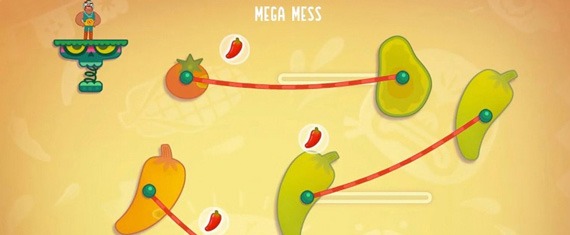 My first impression of the game is that the concept wasn't exactly original. The gameplay of Rubber Tacos reminded me very much of ZeptoLab's Cut the Rope (another physics puzzle game in which you swing a little monster across the screen collecting candy), and then the level-building interactivity was also very similar to Little Big Planet. However, there's a reason people say "Go with what works," right?
Overall, the game is entertaining and challenging enough and the cartoony visuals are funny. I primarily played it on the iPad, which worked great, though when I played on an iPod Touch it got a bit harder to play because of the smaller screen. It's good, but not Plants vs. Zombies good (I'd easily give that game 100/100).
I have to take away some points for originality and small device accessibility, but definitely have to give props for the game being free with minimal ads.
Score: 8
– Amber Taylor