I've been a fan of the Sly Cooper franchise since its debut a decade ago, when Sucker Punch introduced PS2 owners to its gorgeous cell-shaded platformer with kid-friendly cast. The game's mix of stealth, platforming and level design had a certain charm to it that gripped me through three games in the series. Eventually the reins were handed to Sanzaru Games, which ported the original Sly Collection in HD to the PS3 in preparation for the fourth game in the series — Sly Cooper: Thieves in Time
.
Franchise fans will feel right at home in what's now Sanzaru's playground, but others may think Sly seems a little dusty. Not graphically, mind you, as this game is absolutely gorgeous, but in the gameplay department, where Sly feels much like it has for the past 10 years.
This latest entry in the Sly Cooper pantheon has the theivius raccoonus and his pals traveling through time and to different worlds shortly after the end of the third game. This time- and world-spanning element spices up the visual variety, and the different environments, settings and appropriately themed special abilities keep the gameplay diverse. Being able to replay different levels as Murray or Bentley spices things up a bit, as you can play with completely different abilities, although this aspect isn't new to the series. However, what is new is the time-traveling aspect, which allowed Sanzaru to introduce new playable characters in the form of era-appropriate Sly ancestors. With each ancestor having a unique ability, the characters have novelty on their side and keep the gameplay from getting repetitive even as you play as a member of the Cooper clan.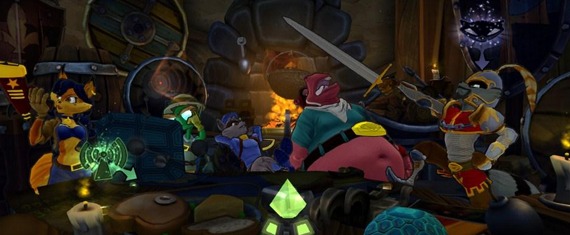 That's not to say everything comes up roses, as some of the same platforming-Hell frustrations that have troubled me in previous Sly outings have returned. Among these irritants are a dictatorial insistence on hitting an exact landing spot or falling to your death, a camera that poses inconvenient viewing angles rather than helpful ones about 30 percent of the time, and Sly jumping the wrong direction for some inexplicable reason. I noticed these more on the HD ports of the previous outings than on my first play-through of the original games, so maybe it's something tied to Sanzaru Games. I'd hate to think that's true, but considering it's surfaced twice in a row now, I have to wonder.
Another quibble with Sly Cooper: Thieves in Time Sanzaru is the minigames injected into many levels. From arena combat to hacking to firing-range exercises, the minigames aren't specifically bad, but they delay the game or feel thrown in as fodder more than they do as something to meaningfully advance the game. If they were merely sporadic it'd be easy to overlook them, but they come up with disturbing regularity, rendering them more of a detractor from the overall experience than a welcome diversion.
One thing Sanzaru surely got right, though, is the Cross-Save interaction between the PS3 and PlayStation Vita. When Sony first unveiled the PlayStation Vita, I was fascinated by the Cross-Save feature between console and handheld, which Sony had running on an E3 demo of a dungeon-crawler game. Sly Cooper: Thieves in Time executes this flawlessly, as you can play the PS3 game, save your game to the cloud, fire-up your Vita (a Vita copy of the game is included for free on the PS3 game disc), and immediately pickup where you left off. When you're done playing on the handheld, simply save the game to the cloud, and when you're back at the PS3 you can resume playing where you last left Sly on the Vita. I loved this feature years ago when the Vita debuted, and I love it today having experienced it in the real world rather than in a controlled trade-show environment.
It's appropriate to reminisce about that experience when talking about Sly Cooper: Thieves in Time, because the game itself is a trip down memory lane. To me, that makes the game a blast; to franchise newbies, that may not be so great. Sly Cooper: Thieves in Time has some issues, but it has a playful charm to it that's followed the series since its inception. That same charm may be offputting to new Sly Cooper players, as it may feel a bit "unevolved" or antiquated. To me, it just fits. Yes, I had some frustrating moments with the platforming elements, and the minigames got old, but Sly Cooper: Thieves in Time still felt like a Sly game. And frankly, that's all I could've hoped for.
Check the price for Sly Cooper: Thieves in Time at Amazon.com
.
Score: 8
– Jonas Allen
Platform reviewed: PS3