I've had a lot of fun playing the Test Drive series, from the franchise's days in the arcades to its appearances on the current-gen consoles. The twists and turns on its digitized streets have been met by similar changes in gameplay and tone, with the latest evolution coming in the form of vehicles from a single manufacturer: Ferrari. True to form, Test Drive: Ferrari Racing Legends lives up to its name by providing "test drives" of some of the world's most storied and exotic cars, including decades-old racers. It's important to note, though, that these "test drives" are heavy on simulation-style handling, which will leave many casual racing-game fans a little less than thrilled.
Test Drive: Ferrari Racing Legends is a solid racing sim, so don't take anything negative away from that previous comment. It's just something to be aware of before putting your pre-order in, because if you don't handle exotic cars well in the other racing games, you're not likely to handle any of the vehicles well in Atari's Ferrari-only racer. Whereas other games ramp you up to speed, as it were, Test Drive: Ferrari Racing Legends tosses you into the exotic-car mix from the very beginning.
The opening course plops you mid-race behind the wheel of an historical Ferrari as you try to nab a top-two finish. This requires little more than standing your ground, which would seem to be a simple-enough concept but proves rather challenging. Ferraris are responsive vehicles — at times to the point of squirrely — so jumping right into a defensive position adds pressure that wouldn't otherwise be there. It would be nice if the developers added a tutorial or additional training level sometime between now and the game's release; the game is called "Test Drive" after all. Without it, you have to play a Quick Race first, which is a bit counter-intuitive for Career devotees.
However, the Quick Races are a great way to get used to the game's nuances, because you can adjust the day, weather, AI difficulty and car type (from whatever you've unlocked), among other settings. So, you may want to tackle that mode first anyway.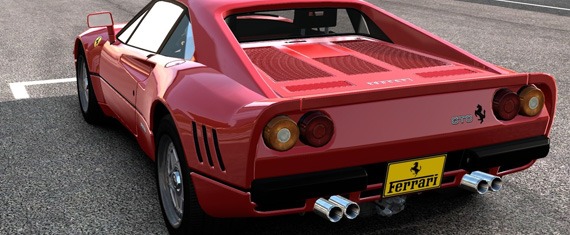 The Career mode spans three different eras — Golden (1947-73), Silver (1974-90) and Modern (1990-2009) — and takes racers through more than 200 races in the process. The modes are surprisingly diverse, from familiar standbys such as traditional races and time trials to an Overtake mode and a mode called "One" in which the car in last place is eliminated every 30 seconds until there's just one left. The most interesting addition is called "Follow," which requires you to stay within a certain distance/time from an opponent. If you think of it, it's a good idea to run through this mode before tackling the first actual mission in the Career, since it's basically what you need to do.
The cars in each era look fantastic, and it's nice to see the developers paid as much attention to the interiors as the exteriors. It's neat to see a Ferrari's veneer, but actually sitting in one — even digitally — is the true draw of this game. Switching the viewpoint from behind the vehicle to inside it gives a great race perspective, and seeing the speedometer and odometer move in real time as the driver shifts adds a nice level of immersion. While in the cockpit view, you can even move the driver's head around to look around the car, another nice touch if you can find an open straightaway to handle the diversion.
Test Drive: Ferrari Racing Legends includes all the genre-standard features you'd expect, from online multiplayer and driver assistance (braking help on/off, driving-line assistance on/off, ABS on/off, etc.) to post-race replays and online leaderboards. You can also adjust the speed units to be shown in either miles or kilometers per hour, a little touch that adds to the authenticity of a Ferrari-only game.
In other words, if you're a Ferrari fan and have ever wanted to sit behind the wheel of one, Test Drive: Ferrari Racing Legends is the closest thing you'll find to stepping foot in these legendary cars without spending your life savings. If you're a casual gamer or find yourself drawn more to arcade racers rather than sims, you should seriously consider how much you want to practice your driving, because this game truly does provide the closest thing to a "test drive" you'll get from the sofa. If you're willing to put in the time, though, or if you like racing sims, Test Drive: Ferrari Racing Legends is one to keep your eyes on when it ships for Xbox 360 and PS3 in May.
Pre-order from Amazon using these links (there's a good discount on the Xbox 360 version if you act fast):