Moscow and alien invasions are two of the most imposing situations an action movie can present, so surely an alien invasion in Moscow sets the stage for the best movie of all time. Such is the premise — and goal — of The Darkest Hour, which recently released on Blu-ray Disc. The premise aspires to even more buzz, though, when you consider that the plot hinges on five young people whose now-solitary goal is to save humanity, with two of them forced to abandon fundraising for their social media company. I mean really, can a single movie possibly throw any more cliches at viewers?
To be fair, I've never reviewed Blu-ray releases for their narrative qualities. If you're considering buying a film on Blu-ray Disc, you probably already know its premise and want to hear more about the multimedia and bonus features. So, in that regard, I won't harp on The Darkest Hour any more than I already have, other than to say that you really do need to remove your brain and ignore the ridiculous plot, script and basically any aspect not called "visual effects."
With that out of the way, The Darkest Hour does present a nice multimedia experience, starting with the special effects. Good CG is a requisite for any sci-fi film, and the creative forces behind Wanted, Fight Club and Minority Report don't disappoint here. Watching the bursts of energy associated with an otherwise-invisible alien race invading Moscow is quite entertaining, and Moscow itself is fantastically rendered with great detail. The fallout, of course, of aliens absolutely demolishing Moscow is shown in gorgeous detail, all in all providing some nice eye candy. The lighting is also great, and the film's use of "spot color" provides a nice contrast to the bleak and arguably washed-out landscape of a war-torn Moscow.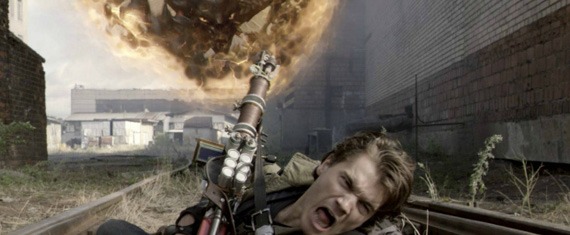 The Darkest Hour's bonus features are as slim as the script is shallow, but what's there is done pretty well. The Darkest Hour: Survivors (8:09) is a parallel story that tracks other humans around the globe as they battle the invading aliens. This "alternate timeline" treatment is a tactic you'd normally expect to find in a videogame expansion or sequel than you would accompanying a feature film in its Blu-ray bonus features, so it's a refreshing break from the norm. It's also written quite well and at least as entertaining at the main film, if not more so. It's definitely worth the watch.
Next up on the "cool factor" for bonus features is the requisite special-effects featurette. Called Visualizing An Invasion (12:09), this bonus feature discussed the filmmakers' work creating the gorgeously rendered Moscow, the alien forces, the invasion and just about everything in the film that goes boom. An Audio Commentary track with Director Chris Gorak and Deleted and Extended Scenes (4:48) round out the bonus features, none of which is particularly compelling compared to the other two.
Again, The Darkest Hour isn't going to win any awards for its narrative or screenplay, but you kind of know that going in. Five kids, two of whom work for a social media company, tasked with saving the planet from an alien invasion in Moscow doesn't exactly sound like an Oscar-worthy plot, and it's not. However, what The Darkest Hour lacks in sophistication it makes up for in visual effects grandeur, which is probably what most people are looking to get from the film anyway. The fact that you get a great alternate-timeline bonus feature is a bonus, if only for eight minutes. Had the main film been done that well, and had a few more bonus features eked out a release, The Darkest Hour would score a heck of a lot higher.
Score: 4