As a parent, I find Toy Story 3 to be an incredibly sad movie. Well scripted, meaningful and great, to be sure, but emotional and sad nonetheless. As a so-called graphics whore, I find Toy Story 3 to be one of 2011's benchmark CG films, with animations and textures so refined they'd make granular sugar cry. Yet as a fan of the Blu-ray 3D format, I find Toy Story 3 to be a bit disappointing. The technological jump from the first to second film was remarkable, as I noted in my Toy Story 2 Blu-ray 3D review, and the impact of those improvements definitely resonated on that film's 3D aspects as well. Yet the graphical jump from Toy Story 2 to Toy Story 3 isn't nearly as dramatic, and in fact the 3D aspects seem to have taken a bit of a hit.
This third entry in the series has a lot more going on on-screen at any one time than either of the previous two outings, probably because Pixar had the technological prowess to pull it off. The additional activity is neat, but all that movement actually distracts from the marginal amount of dimensionality that's actually present in the film. The activity isn't to the degree of The Clash of the Titans on Blu-ray 3D, where the action was so frantic that you flat-out couldn't focus on anything, but it does noticeably hamper the overall 3D impact.
Some of the hard-edge ghosting I noted in Bolt's 3D presentation creeps in Toy Story 3 as well, which is a big detractor, and there isn't the same depth-of-field blur that helped so many elements pop off the screen in Toy Story 2. Instead, the camera manually changes its focus to draw attention to a specific element on the screen, which makes it "pop" in a 2D sense but has little to no 3D effect associated with it whatsoever.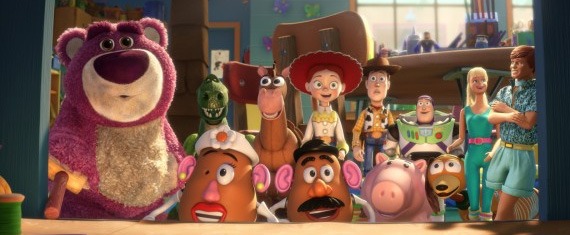 The overall graphics, although incredibly polished and on par with the updates in the previous two outings' Blu-ray 3D releases, don't show the same foreground/background differential as Toy Story 2, which makes this third film lean more toward an outstanding 2D presentation than an above-average 3D one. Everything is just so crisp that nothing's given the opportunity to pop off the screen at all.
That's not to say there aren't some decent 3D scenes, it's just that there aren't many of them. For instance, when Woody's tossed into the sky by his "new" little-girl owner, it looks as if he's truly falling away from you. When Buzz is being interrogated by Lotso and his cronies, the combination of CG excellence and 3D effects delivers some of the best 3D you'll see in any movie. When you see Lotso's flashback with his old owner, Daisy, the composition and graphics make each sequence look like a real-life interaction is taking place behind the "window" of your 3D TV. Still, these representative scenes are brief — a combined seven minutes total — and when you spread that across an hour and 42 minutes of arguably-2D movie, it doesn't feel like you're watching a new-release Blu-ray 3D movie.
Considering the jump in graphics and 3D effects between Toy Story 1 and 2, I had high hopes for Toy Story 3 on Blu-ray 3D. Unfortunately, while the film does show a significant graphical upgrade from the second film, the 3D effects take an odd step backwards. Much like the positive steps between Toy Story 1 and 2, this decline is due in large part to the artistic advancements and decisions made by Pixar. Manually de-focusing and re-focusing on various parts of each frame to highlight different elements has definite artistic value and does great things for the 2D presentation, but it results in the 3D presentation falling a bit, well, flat. For a Blu-ray 3D movie, that's not exactly the desired outcome.
Score: 7.8