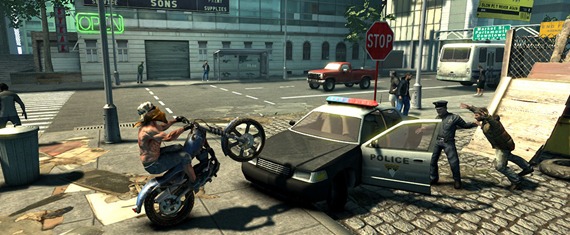 Let me preface this Urban Trial Freestyle review by saying that I hope you, dear reader, find this review to be an acceptable length. It's hard to be verbose when a game stinks. Either I predicted this game years ago, or I've played it before, and in either case there's a reason I'm not playing it today. Urban Trial Freestyle is a downloadable game for the PlayStation 3 that centers on varying levels of the side-scrolling "racing" variety. Anyone who's ever played Trials HD or ridden in the cars at Disneyland's Autopia has already experienced everything Urban Trials Freestyle has to offer.
For those who haven't played Trials HD, the game consists of having no way to go but forward, with only the brake, gas and balance in your control. I should note that I got through several levels without even touching the balance. The environments are the most memorable part of the game, most notably a semi-abandoned carnival. Yet when an environment is more memorable than the gameplay itself, it's not a particularly good sign.
Despite that, the level of game design isn't particularly notable. Since the environments are the best graphics of the game, it makes it pretty obvious that gameplay was a secondary (if not further-down) concern. It actually seems like kind of a mean prank to spend all their effort on the environments and not even give the player free reign on the levels. Had the developers done that, in fact, it would have set them apart a little.
As it is, though, Urban Trial Freestyle suffers from simplistic and unchallenging gameplay mechanics, and while the levels do technically get increasingly difficult, it's not so difficult as to keep the player interested.
If you're looking for a downloadable PS3 game, go grab Future Legend of Rhythm Alien instead.
Score: 5
Platform reviewed: PlayStation 3
— Amber Taylor