Yogi Bear is one of those classic cartoons that never seemed like it would get an update for a new generation. Same goes for the Jetsons, Tom & Jerry and Hong Kong Phooey. Sometimes the studios just leave well enough alone. But then someone at Warner Bros. went on a camping trip, maybe had a picnic interrupted by a bear or army of fire ants, and a Yogi Bear feature film not only surfaces, but does so in 3D. Folks, that's about as "updated" as you can get.
The Yogi Bear Blu-ray 3D holds some surprises, but prime among them is not a "surprisingly good" plot. Yogi Bear 3D shows the titular bear and his cohort Boo Boo working together with Ranger Smith to save Jellystone Park from being harvested after a crooked mayor re-zones the Park and sells its lumber rights to save his town's economy. Slapstick humor ensues, including Yogi dancing to "Baby Got Back" and causing pandemonium at a fireworks show after he falls off his water skis. Oh, and along the way Ranger Smith falls in love with an equally dim-witted but nature-loving blonde. Nope, that's not classic theater.
However, if you're watching a Roger Rabbit-like mix of live action and animation for its subplot excellence, you're not exactly smarter than the average bear. Yogi Bear is designed to get a few laughs from a new generation of kids, and normally that's all you'd get. And that's where the first surprise comes in.
The Yogi Bear Blu-ray 3D presents an HD video transfer that's far more crisp than I expected from a kid-focused film, particularly since the movie didn't exactly reach blockbuster status in the theaters. Nearly every scene, save for two with the aforementioned blonde, has an almost artificially sharp feel to it, presumably because the edge-perfect CG bears needed to blend in with an equally-sharp environment to look like they really belonged. Though a bit jarring, the crispness isn't really isn't an issue unless you're watching a tree-heavy scene (nature generally evokes a softer vibe).
This clarity augments the 3D presentation, which is also a surprise, but it's hard to decide whether in a good or bad way. With images this sharp, the Yogi Bear Blu-ray 3D feels very layered, almost as if you're watching a series of animated cels move over one another while you sense the space between them. I've not seen this before on a 3D Blu-ray. Normally the films all feel natural, even if the 3D presentation isn't ultimately very good. Yogi Bear, though, delivers dimensionality in a way that seems a bit forced. Sure, it presents only two three-second instances of crosstalk and provides a couple of jump-in-your-seat 3D gags, but those technical merits don't quite overshadow the feeling that the whole 3D experience is artificially dimensionalized.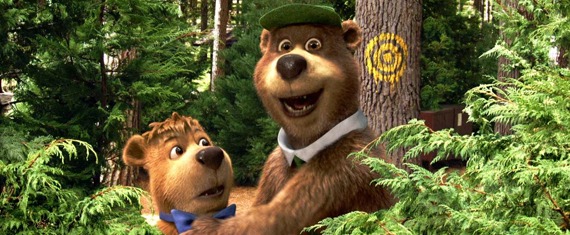 When Yogi Bear does pull off 3D effects well, it really does a good job. The best moment actually comes in the first two minutes of the film, when Yogi Bear and Boo Boo are trying to swipe a picnic basket and Yogi ends up airborne among a smattering of tortilla chips. Yogi flies through the air in slow motion, grabbing one of the chips and dipping it into a container of guacamole, all while the rest of the chips, Yogi and the guacamole container itself continue to move forward toward the camera. The sequence actually provides a few amused laughs, but it also provides a fantastic 3D effect.
A later firework scene also provides some nice 3D, even if it is built on gags. Rockets flying toward the camera is cliché, but this scene pulls it off well. Popcorn bursting out of the popper and into the camera is cutesey, but it works in the context of the scene. Sparks shooting into viewers' proverbial lap is predictable, but the effect is pretty good. Still, the piece d'resistance near the end of the film actually made me jump a bit in my seat, even if it is a two-second gotcha scene. After foraging for food, surely a sign of the apocalypse as far as Yogi is concerned, the bear squirts a worm out of his nose like a noodle. The effect is so effective that I not only jumped in my seat, but had a mini gag reflex at the visual. In a good way.
The biggest surprise of the Yogi Bear Blu-ray 3D, though, is the fact that the 3D disc itself contains some bonus features. Nine times out of 10, a 3D Blu-ray package includes one disc for the 3D version and one for the 2D version, with the latter being home to all the bonus features. That's not the case here, because Yogi Bear actually has five 3D featurettes, the longest of which is a Wile E. Coyote/Road Runner short in full 3D.
Four of the five 3D special features are about two minutes in length, so it's not like you'll be spending a whole lot of time soaking in behind-the-scenes info (those are all contained in 2D on another disc). The first 3D bonus feature, Fun on the Yogi Bear Set (1:57) relies exclusively on gags for its dimensionality as the actors give brief tongue-in-cheek interviews while props bounce around their talking heads. Tour of Jellystone Park (1:53) is essentially a compilation of clips and environmental shots from the film you just watched, so it's by and large a waste of disc space. Jellystone Park Jewel: Yogi's Secret Hiding Spot (2:06) is a bizarre featurette that starts out funny but ends up being pointless. Ranger Jones hosts this faux instructional video about one of the local tree species that Yogi likes to use in the park to hide things. The sidekick Ranger is a total dufus, so his ad-lib comments about the backpacks, etc. that he pulls out of the tree are pretty funny, but after he pulls out the last of the camping items you can't help but wonder "what was the purpose of this again?" I'll be the first to defend a film for catering to kids' comedic sensibilities, which this sequence obviously does, but it still seems kind of weird.
Jellystone Visitor Pic-a-nic Demo (2:39) is where the 3D bonus features start to feel worthwhile, as it presents the actual tech demo and animated short that the filmmakers presented to the studios before getting the green light for the full 80-minute feature film. The sequence is full of gags, as you'd expect from a 3D demo, but it also communicates the tone and feel the filmmakers were aiming for — and achieved — both with the animated character of Yogi and his live-action actor counterparts.
The final and longest 3D bonus feature is by far the best, though: Looney Tunes Short: Rabid Rider (3:09), a completely original cartoon featuring none other than Wile E Coyote and the Road Runner. Up to his usual antics, Wile E Coyote is trying to catch up to the Road Runner, this time using a souped-up Segway to speed along down the highway in hot pursuit. Only problem: as mobile as the vehicle may be, it's still got a bumbling driver, which leads to all manner of collision and falling debris. Finally fed up with his Segway, Wile E Coyote tosses the device off a ledge so he never has to see it again. Unfortunately, when he makes his way back to the highway and avoids a massive collision with a big rig, the massive truck tips over and spills its cargo: a few hundred AI-controlled Segways that want nothing more than to make the dear Coyote's life miserable. The short's long on humor and presents some great 3D as well. Warner Bros., I can't wait for you to release more of these Looney Tunes shorts in 3D.
As for the Yogi Bear Blu-ray 3D? It's good, but not great. There's definitely some dimensionality, but it largely feels forced and awkward, a problem that's exacerbated by artificially sharp visuals. The inclusion of some 3D bonus features is a very pleasant surprise, particularly the Looney Tunes one, but even when you account for the six additional features on the 2D disc, the overall package feels a bit paltry due to the film only being 80 minutes long. I can't imagine an adult proactively buying this for him or herself, to be honest, and kids older than eight are probably going to roll their eyes at the humor. If you're OK letting your six year-old use 3D glasses, then pick this one up. Otherwise, you're best served to pass on it altogether.
Click this link to see Amazon's current discount on the film: Yogi Bear (Three-Disc Combo: Blu-ray 3D / Blu-ray / DVD / Digital Copy)
.
Score: 7