There's something about seeing game new that's related to the 'Street Fighter' franchise which takes us back to our earliest days playing video games. If you're over 30, then you probably remember how much hype there was when 'Street Fighter 2' was released in the mid-1990s. It was the one video game every child nagged their parents to get them, and the one present we all hoped was hiding under the Christmas tree in 1991. Whether it was on the Nintendo, the Super Nintendo, or the SEGA Genesis, 'Street Fighter 2' was a must-have, and sits right next to the first 'Sonic the Hedgehog' and 'Super Mario Brothers' in the pantheon of early 90s classics.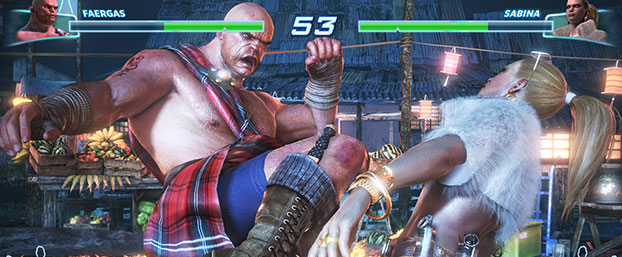 For a lot of players, our passion for 'Street Fighter' games has never gone away – despite what sometimes feels like the best efforts of Capcom to put us off the series. The game has quite literally followed us into adulthood – we were children when it was released, but we're now adults. Adults can gamble. Accordingly, there is a slots game based on 'Street Fighter 2.' Very few video games go on to get their own mobile slots game – we can name 'Tomb Raider' and 'Bloodrayne' as other examples of games with their own mobile slots, but after that, we're struggling. The mobile slots were developed because the companies who design mobile slots know how powerful the lure of nostalgia can be. So do Capcom, which explains one of the 'new' characters who have now become available for 'Street Fighter V.'
The fifth 'Street Fighter' game hasn't been an unqualified success for Capcom. It hasn't sold as many copies as they imagined it would, and it hasn't met with universal approved. In fact, there are some disgruntled players who have gone so far as to call it an outright money grab by Capcom. Capcom is very much aware of the criticism, and appear to be responding to it. They're currently offering the game as a free-to-play trial for anybody curious enough to download it – and they've reached all the way back to 'Street Fighter 2' to bring back E. Honda. 
Welcome Back, E. Honda!
The failure to include E. Honda in the game's original lineup always felt like a misstep. As a character who had been with the franchise since the second installment, he's every bit as much a central component of the games as Ryu and Ken, and arguably more so than flash-in-the-pan popular characters like Blanka and Cammy. Honda even had a major role to play in the 'Street Fighter' movie, which you might recall as one of the very worst films ever made. The sumo wrestler, with his 100-hand slap and powerful leg sweeps, was often the first character players used to complete prior versions of the game. We have no way of knowing whether he's as useful as he once was in 'Street Fighter V,' but just by including him, Capcom has made it feel like a more complete game. His inclusion means that every character from the second 'Street Fighter' game has now been made available as a playable character. 
Honda hasn't come alone, though. There are two more characters available in the latest round of DLC, and both of them have their own stories and merits.
Welcome, Lucia!
You might be fooled into thinking that Lucia is a completely new character created, but she isn't. Lucia has a fine video gaming pedigree – we just haven't seen her for quite some time. She also looks great for her age – she was already in her 20s when she made her debut in 'Final Fight 3' back in 1995. Several characters from the world of 'Final Fight' have found their way into 'Street Fighter,' and Lucia was probably well overdue. Her original 'Fight Fight' costume will be available in the game if you're able to unlock it (or pay for it), but for the purposes of 'Street Fighter V,' she's been re-imagined as a policewoman. In terms of fighting style, if you're a 'Final Fight 3' fan, you might be pleased to know that Lucia's fighting moves from that game have made it through to 2019, accompanied by several more kicks and strike attacks that she may have borrowed from Chun-Li. Some of the artwork we've seen accompanying her entry into the game seems to suggest that Chun-Li personally trained her, which provides a nice convenient excuse for the re-use of attacks. 
The third and final DLC character – and perhaps the last piece of DLC for this version of 'Street Fighter' also knows a thing or two about 'Final Fight.'
Welcome Back, Poison!
Poison's history as a character is a little controversial, to say the least. She was in the original 'Final Fight' as an enemy character, but she was quickly removed when American audiences complained about male characters attacking women. She stayed in the Japanese version of the game, but her character biography was re-written to state that she was a post-op transsexual (almost unheard of in video games for that era). Capcom prefers not to comment on her gender status these days. She's been playable in the 'Street Fighter' series since 'Street Fighter X Tekken' and in-character she also runs a professional wrestling company (and may or may not be in a rock band with Ken and Ryu). For some reason, she's been permanently armed with a whip in the new game, whereas this was a special-attack only skill in 'Street Fighter IV.' Whether you believe she's male, female, a rock star, a wrestler, or any of the other suggested guises that the complicated continuity of 'Street Fighter' and 'Final Fight' have provided for her, she's certainly a welcome addition, and another connection to the past of the franchise.
It remains to be seen whether this will be the final piece of DLC made available for 'Street Fighter V,' or whether more will be added further down the line. Historically, Capcom wait for eight years or more before releasing new versions of 'Street Fighter,' but the lack of obvious characters left to be added to the current game – coupled with its disappointing performance in terms of sales – may persuade them to move faster, and push 'Street Fighter 6' up the production schedule. If you've been holding off until now, why not take advantage of the free trial offer and make up your own mind about the game?