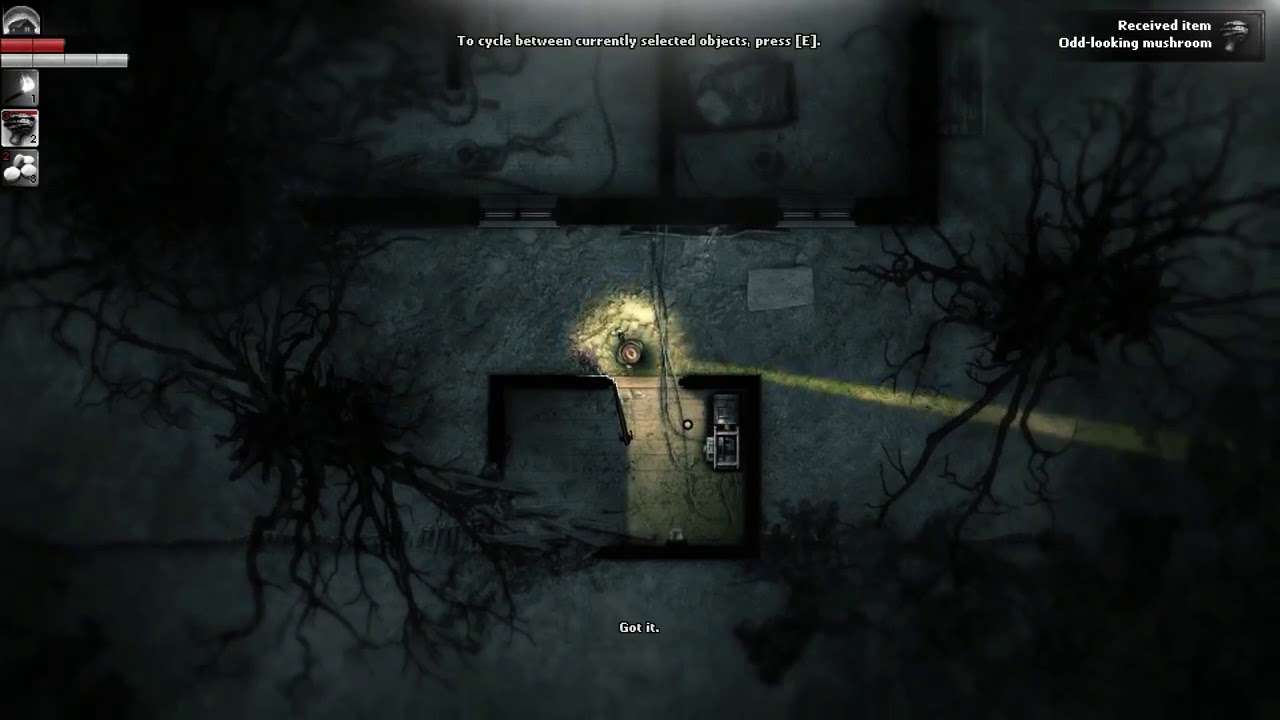 Imagine that you are on a beautiful place in the woods. Beautiful sun, everywhere natural beauty, peaceful environment etc. and of course how can this be completed without your loved ones whose hand you will be holding. But now imagine opposite of all this; you are all alone on an isolated island where it is dull and dark environment. Every moment you are feared of death. There is lot of adventure with a constant fear of losing your life. If you want to look for your fear, if you want to take a look at your inner demon, that will only devour you. This all will be experienced in this game that is darkwood.
Darkwood is a single-player video game. It is a third-person horror game. It is also an action game which has a lot of adventure. The game is developed by Polish Company Acid Wizard Studio. The game was released on July 24, 2017. This game supports Windows, MAC OS X, SteamOS and Ubuntu. The entire game was released on 18 August, 2017.
Gameplay
The game features a world which is a semi-open world where player has to unlock new areas as the story-line progresses. Crafting system, trading, and NPC interaction is also featured in it. It even features day/night cycle and a skill system. You can try out new combats which will be unlocked with the unlocking of new areas. In this game new and improved mechanism is used. You will experience horror at every moment in the game and as the game will progress. It promises sinister things throughout the time. Though at the day you might not feel horrified but you will surely experience a great adventure and at night obviously get a spooky experience. The story starts with you being trapped in an isolated island from where you need to survive by overcoming several obstacles.
Development
The revelation of this game was done through the release of pre-alpha gameplay trailer on You Tube. The trailer was released on 5 March, 2013. On March 11, 2013 a page was created on Steam Greenlight for the game. The game was released on June 6, 2017 and the full version was released on August 18, 2017. The campaign of this game collected over US $57000 which was more that the estimated US $40000.
Reception
The game received very positive reviews from the critics. It got hit even before the release and even after the release. It even got positive reviews on Steam. As per Steam, "the game doesn't disappoint you in haunting you but it still totally depends on you. The good graphics of the game because of which the game has become interesting" As per the game harder, "though it sounds to be a straight-forward survival game but it hides a lots of mystery in it" The game is like a place where you will not get any answer for free, for that you need to explore the woods where all the truths and answers are lying.
Final verdict
It is a horror game in which you have to survive and is filled with some adventure. The game has good graphics and sound effects. At every moment you will explore new areas and you will even unlock new mysteries. The game even has day and night cycle which will give you feel of a real world. The game generates random environments where you explore spooky things and outdoors in the day and then defend your base (also known as home base) at night. The trailer itself of this game is very spooky and surely gives goose-bumps. The game looks real and has a talking generator. The sound effect of the game is really very spooky and scary. It really gives you chills and gives you exceptionally horrifying experience.  You will not feel to leave this game in the middle because this game really has an amazing story-line which keeps you glued to the PC and chair. Even if you try to leave this game it is sure that you will get back to it within no time as you will be excited in exploring new adventures and spooky things the game will be offering.