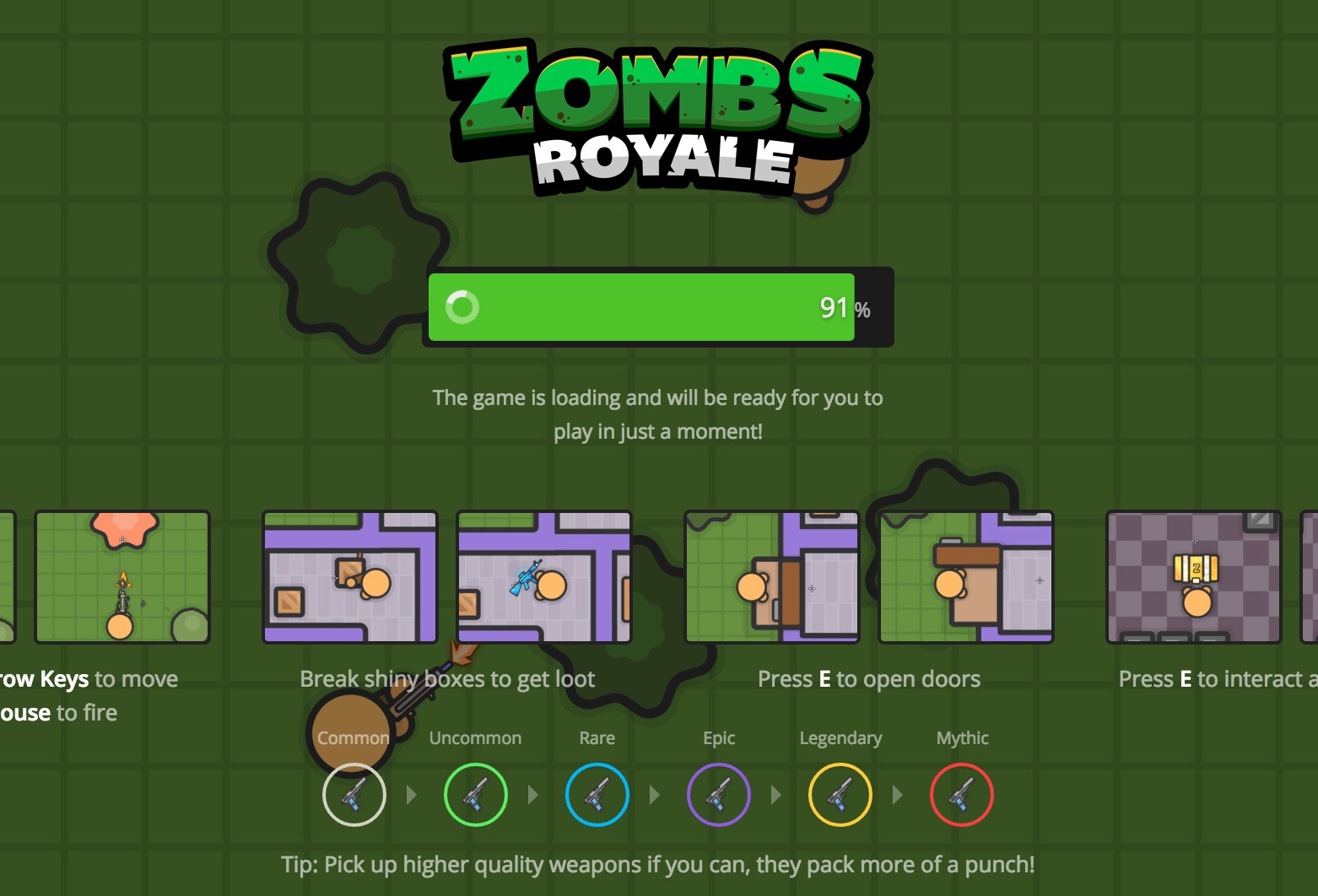 What's in a name? Certainly not zombies, in this case. The title Zombs Royale suggests a horde of undead, all hungering for your flesh in battle-torn, apocalyptic wastelands. Nope. ZombsRoyale.io is actually a multiplayer massacre in real-time, where hundreds of worldwide gamers are pitted against one another in a relentless battle to accomplish bigtime victory. The best of the best gets their username on the leaderboards, plus a few rewards, level-ups, and bragging rights. While the rest of us…well, we either keep trying or lay down and forfeit. Dun dun dun.
When you play ZombsRoyale.io on Poki, the biggest question is: How bloodthirsty and ruthless can you be? You could be the biggest sweetheart in real life, but those sugar coated antics aren't going to cut it in a game of 2D arcade-style war and slaughter. Violent? A bit, but there's a definite sense of satisfaction that comes with making ranks with the bests when you've picked off your fair share of 100+ players. So, again—how bloodthirsty and ruthless can you be? You're about to find out.
Bad at shooting games? There are a few saving graces for those that still need practice to improve their ZombsRoyale.io gameplay. The games are separated into 3 modes: solo, duo, and squad. While you rely on simply your own wits, skills, and marksmanship in solo mode, you can invite others to play with you, on a team, in duo or squad modes. You can either make buddies that are specific to the game. Or, recruit your own with invites to real friends on your Google Plus or Facebook pages.
FYI—A squad of war-wagers consists of 4 players, each equipped with their own weapons, skill sets, boxing gloves, and map ranges.
Everything You Should Know About ZombsRoyale.io Gameplay
The game controls take a few minutes to master, mostly because you have dozens of other gamers trying to blow your head off from the get-go. To move forwards, backwards, and to the sides, use the keyboard arrows or WASD. The mouse's right-button is how you aim for and kill your opponents. The letter E helps you open boxes of ammo, pick up airplane-dropped loop, and trade out weapons when you find a better one on the ground.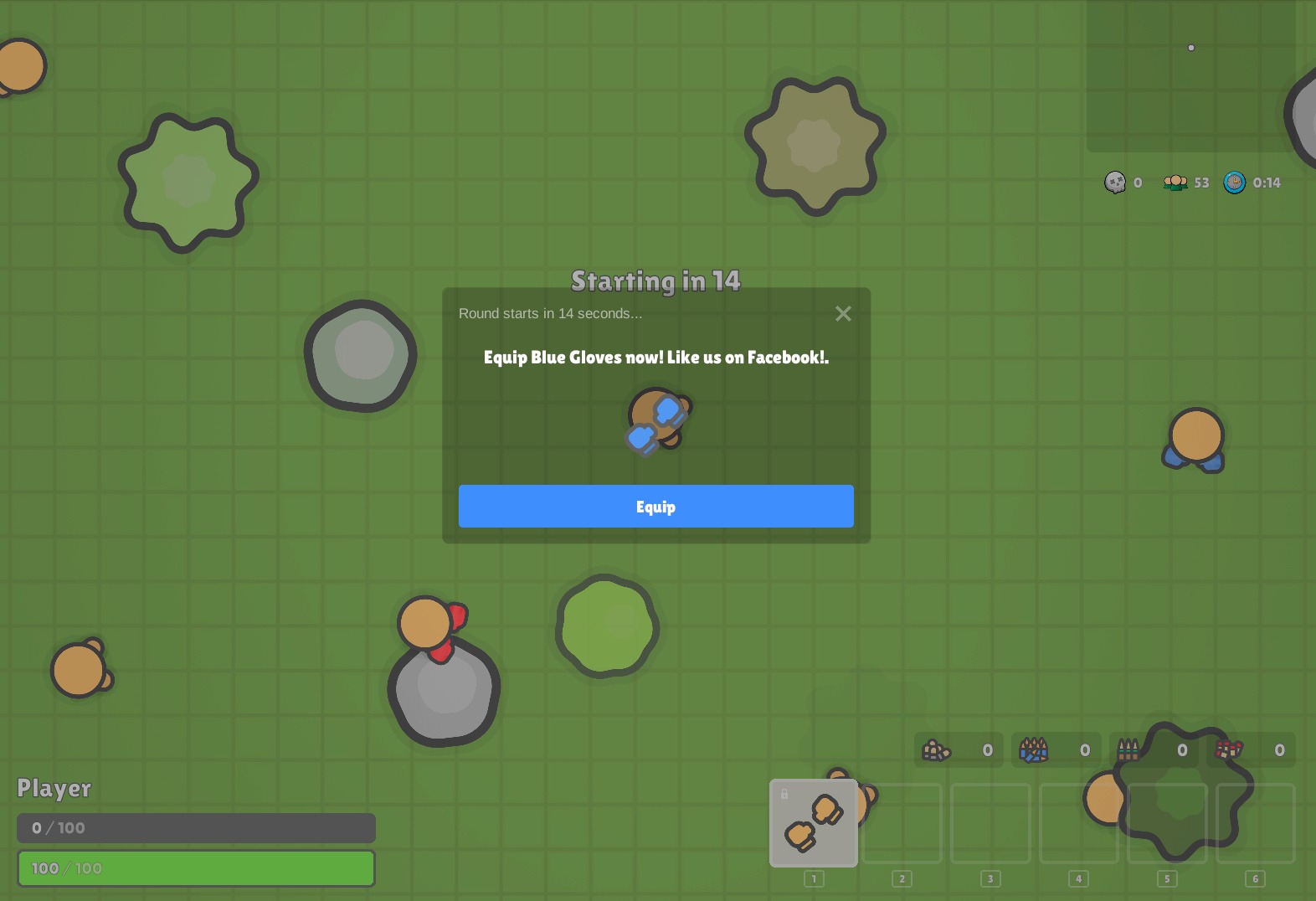 The beginning of the game starts in an airplane, above a landscape of bushes and trees. You, alongside your fellow gamers, have to descend with parachutes to wherever you think is the safest, best place to land. However, it's a free-for-all when you make those landings. You might die within the first few seconds, so you should absolutely hit the ground running. Hide, gather your wits, evaluate your competition, find some weapons, and prep for the slaughter ahead. You can either kill or be killed, but the objective is to be the last survivor and ultimate victor.
To better your gameplay experience, you should log in with Google, Facebook, or a username and email of your choice. This allows you to save your progress and high scores, while snagging free rewards, like extra loot and weapons, or level-ups, which means a higher-grade arsenal. Also, for logged in players, there are daily challenges that you can complete for prizes. For instance, you might need to massacre a dozen people in under 3 minutes. Or, the challenge could be as simple as finding a mini machine gun with a box of ammo. These challenges have been known to change every 4-5 hours—but, really, you're basically at the mercy of the developers on that one.
Speaking of game developers, ZombsRoyale.io is constantly being updated and upgraded. Gamers are encouraged to report bugs and glitches, or even make suggestions for smoother, better gameplay, and the developers often take these suggestions to heart. When you log on for a few hours, check the recent updates message board to see what's new. You never want to miss out on an announcement about new challenges, prizes, or weapons.
Other gamers aren't the only dangerous element in ZombsRoyale.oi. After a few dozen of the players are killed off, a blue gas starts to creep in around the edges of the screen, closing off a circle of players. As more gamers die, the gas pushes in, forcing hiders to either fight or choose to die by noxious fumes. As soon as the gas touches you, a slow death sets in, and it's only a matter of time before you croak.
Any Bummers? And a Riveting Conclusion!
Any game is going to have a few negatives, cons, or bummers—whichever term you prefer, they all mean the same things. ZombsRoyale.io has had a problem with lags in the past. The game is SO popular that there are times of the day when hundreds of people will overload the servers at once, resulting in significant lags for older computers with less hardware space. While the game developers have made big leaps in fixing parts of this problem, it still remains somewhat of an issue. But, for most computers, it clears up after a few minutes.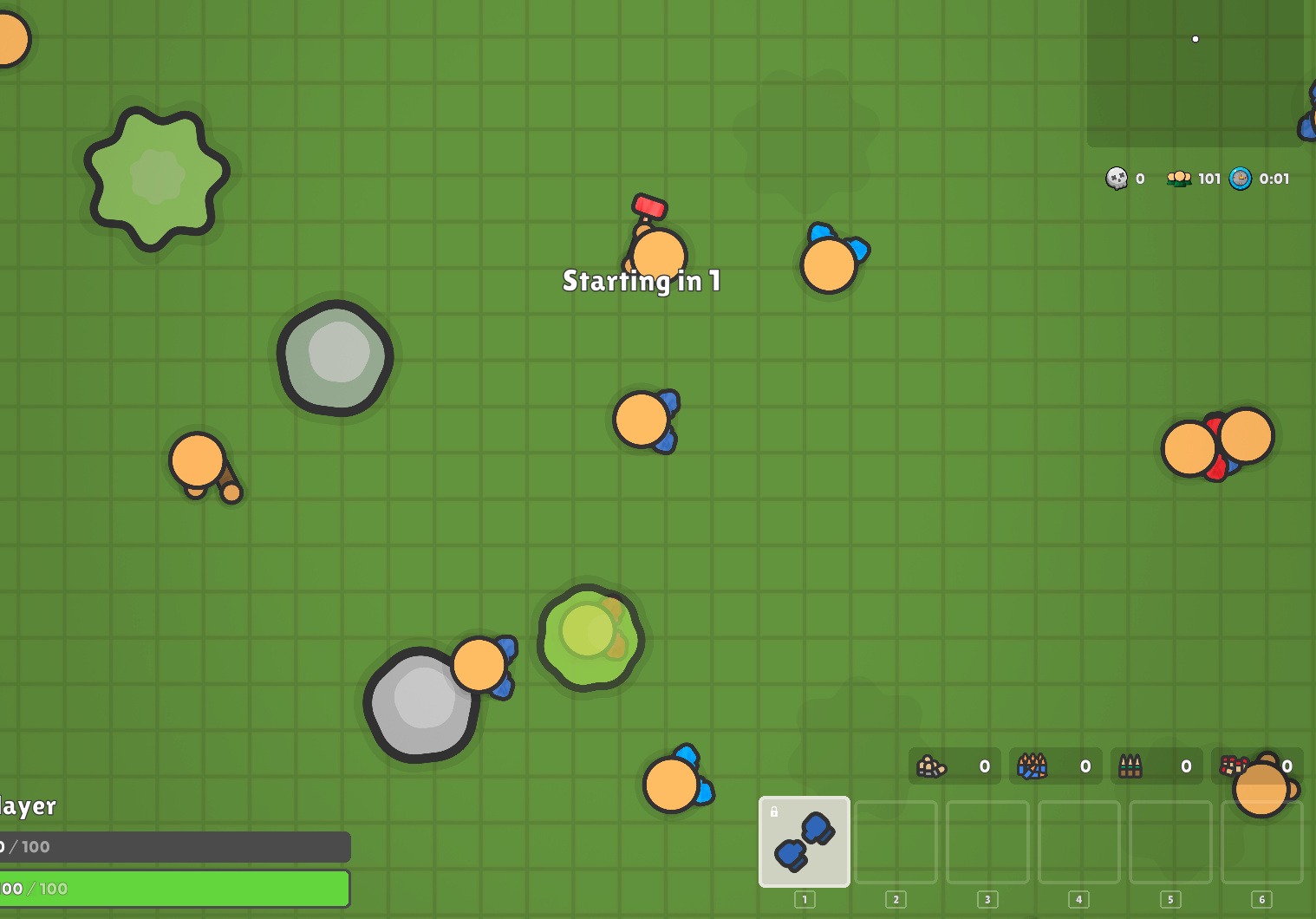 If you want to wait for the lag to clear, the cool—you can hide out and play when your computer bumps up to speed. If your patience isn't up to par, or you're short on time, come back when there are fewer people on. Say around midnight or so. While there are always going to be lots of gamers battling it out worldwide, everybody has to sleep sometime. And the more players that are asleep in your area, the less there will be to gum up your computer's connection to the game.
ZombsRoyale.io is the kind of game that you either love or hate—there's no in-between. For someone that enjoys the senseless, ruthless butchery that accompanies the slaughter of unknown opponents, this game is loads of fun. For someone that would prefer the quiet and calm of matching game or an interactive RPG, this game is probably a little too intense, and should be skipped. Your call. But I will tell you now that it's quite an accomplishment to get your username put up on that leaderboard, especially when you are pitted against hundreds of others with the same goals.