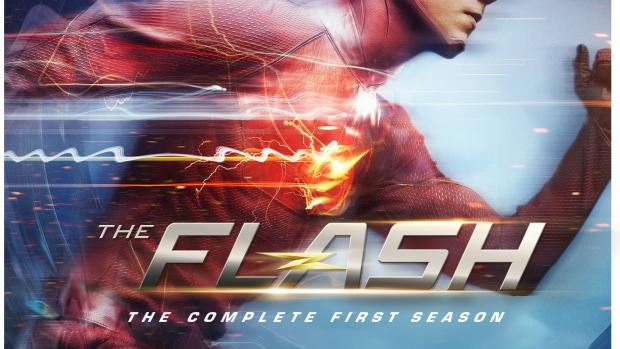 CW's The Flash is the latest TV adaptation of the DC comic series of the same title. The story revolves around the life of a geeky and endearing CSI investigator named Barry Allen whose superhero alter-ego is the titular character. The cast is led by Grant Gustin as Barry Allen and supported by Candice Patton (Iris West, Barry's love interest), Danielle Panabaker and Carlos Valdes (as Kaitlin Snow and Cisco Ramon respectively, Barry's lab-mates and friends) as well as veteran actors like Mark Hamill of Star Wars fame as the spine-chilling villain The Trickster and Tom Cavanagh as Harrison Wells.
The Blu-ray and DVD contain all twenty three episodes of the first season and many additional features like scenes which did not make it to the final cut of the series and blooper reels of the cast goofing off between takes. For DC comic enthusiasts, they contain an extra treat as one of the specials delves into the creation of this specific incarnation of popular DC villain The Trickster with Mark Hamill in the role.
Plot Summary:
The first season shows the genesis of The Flash and how everything around Barry changes as a result of what happened to him. Due to a scientific experiment that went very wrong, Barry, along with some other citizens of his city were altered physically creating a race of meta humans, who are capable of pulling off feats ordinary human beings are not. This season follows Barry as he seeks out all the other meta humans who were created by accident and tries to help them or contain them as the situation requires. As the story unfolds, we find out more about him, his family, and his friends as Barry tries to find out why his mother was brutally murdered years ago by someone who looks like he has the same powers as The Flash himself and tries to bring the killer to justice.
Blu-ray and DVD Special Features:
Extra – The Fastest Man Alive!
Creating the Blur
Audio Commentary
Behind The Story – The Trickster Returns
The Chemistry of Emily and Grant Screen Test
DC Comics Night at Comic-Con 2014 Presenting Gotham, The Flash, Constantine and Arrow
The Flash Factor!
First Season – Gag Reel
Deleted Scenes