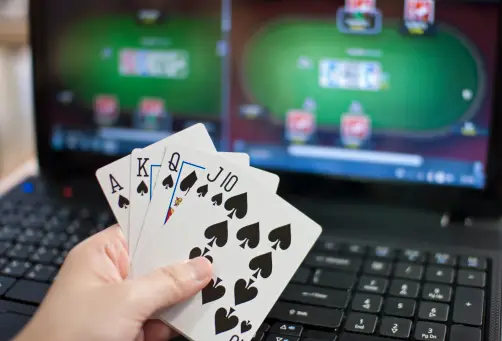 Online poker happening now. Right now. Millions of players log on and play online poker games with others on the daily, winning and losing at the table, all concurrently. So how much are they spending, how much are they winning, and where are all these online poker players?
How Many People Play Online Poker?
It might seem like an arbitrary number but the best estimate is that 100 million people play online poker regularly. This number reportedly swelled in size during the global COVID-19 pandemic when people wanted to fill the void of boredom with a lucrative pastime. Some reports state that before the virus took its hold on the world there were only around 40 million players worldwide.
Where are Online Poker Players Based?
So where is online poker the most popular? Well, there's no prize for guessing that the United States is number one in terms of the sheer amount of players. It's rumored that 60 million Americans play online poker on a regular basis. Given this is the same country that houses Las Vegas and a rich gambling culture, it's no wonder that it's very popular.
What is surprising is that the US isn't the easiest place to play online poker. Given that each state has its own devolved government and gets to set its own laws, some make it very difficult for players and gambling operators to conduct business. When living in places like specific states of the US and countries that don't permit online poker, some avid poker fans look to move elsewhere. Malta, Australia, and the United Kingdom are among the most popular for poker ex-pats given the laws in those countries are very friendly toward online poker practice. Other countries with a big poker following that command a decent number of players include Brazil, Malaysia, Indonesia, and Canada. At one point, however, it was debated that Russia had the most online players. This information has yet to be ratified by any official source.
What is the Size of the Online Poker Market?
It's difficult to measure the entirety of the online poker market and then break it down to microscopic detail. Getting facts and figures about average spend per day is difficult as there are many variables and market conditions that shroud such details. In 2022 it was reported that the overall global online poker market size was at $86 billion. The projections for 2030 could see the value exceed $235 billion. It truly has come a long way since Planet Poker launched the first-ever online poker game in 1998.
Which Sites and Platforms are the Most Popular for Online Poker?
If you've watched television or surfed the web recently, you will probably see an advertisement for a gambling company. That's because they have lots of money, enough to put their branding over primetime television advertising space and the capacity to slap their message all over the web. The biggest brands with the highest reputation are traditionally the most popular. This is especially true in English-speaking countries. Sites like PokerStars, Partypoker, and 888poker are king with a decent piece of the market share in any given nation. Some select areas want to have their experience in the local language, therefore means that the global operations must either translate their offering or set up a bespoke platform. Markets like Japan and the Czech Republic for example are much more likely to engage with poker and gambling experiences when it is presented in Japanese or Czech/
Poker Players Can Skirt the Law
Firstly, before you read this and think it's a good idea – please understand we don't condone any of the practices to be mentioned. We are just presenting the information. Some poker players might live in countries with governments that don't allow online poker or gambling or any form. A good example is Malaysia and another is Indonesia. These are regularly cited as being two poker-loving countries. However, the local government outlaws all forms of gambling. This shows the dedication to poker despite the obvious challenges.
Some users also skirt the local law to get a better reward for their poker activity. I.e. signing up to an offshore poker site or one that isn't cleared for trade in their own country. While it shows their dedication to their craft, it can come back to bite them if they are caught flouting the rules.