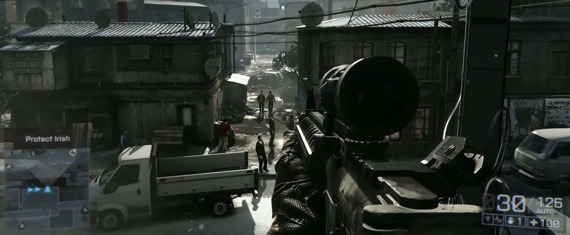 While much of the FPS-gaming world this week watched the Call of Duty: Ghosts multiplayer reveal and read hands-on previews like ours, the Battlefield 4 development team at DICE shared a nice bit of news regarding their competing shooter. All Battlefield 4 stats will carry over to the Xbox One and PS4 if you initially purchase and play the game on Xbox 360 or PS3, respectively.
This revelation from DICE about Battlefield 4 stats was similar to an announcement from Infinity Ward about similar functionality with COD: Ghosts.
According to DICE, "whether you are playing on Xbox 360 or PlayStation 3, we want to make your transition to next generation consoles easy. That is why … all the time and effort you spend building up your Battlefield 4 stats will carry over when you upgrade from the Xbox 360 to Xbox One, and from the PlayStation 3 to PlayStation 4. That way, on October 29, you can get in the game without any worries that you will have to start ranking up all over again when the next generation consoles launch. We got your back."
In addition to the Battlefield 4 stats info, DICE said it plans to bring back Battlefield 4 Premium membership. With membership, players can expect themed digital expansion packs, new weekly content and personalization options. And much as players' stats, unlocks and rank can be transferred from current-gen consoles to the Xbox One and PS4, so will Battlefield 4 Premium membership.
Additional information at Battlefield 4 Premium content, as well as a new BF4 multiplayer mode, will be revealed at Gamescom. EA's 2013 Gamescom press conference takes place Aug. 20 at 10am ET. And hey, if you haven't done so already, go pre-order Battlefield 4 from Amazon
.