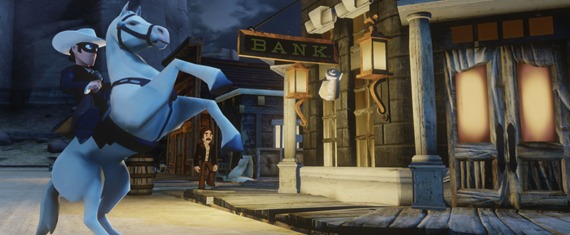 We had the good fortune to party with Disney Interactive on Sunday night, just two days before E3, to learn more about Disney Infinity and take a walk through the in-game worlds of The Lone Ranger (revealed late last week) and Monsters University. Before the event, Disney was generous enough to let us watch the first 37 minutes of the upcoming Monsters University film, as well as a 15-minute clip of The Lone Ranger, because both films provide great backdrops and characters for the Disney Infinity game.
After watching the extended clips from each film, Disney opened it up to some hands-on time and discussions with the Disney Infinity development team. And, amazingly enough, they invited video capture and photographs of the levels on display. The E3 sneak-preview event featured Play Sets (i.e. "game worlds") from each of the two movie franchises, plus the Toy Box area in which any character and element can be used in an open-world, user-generated-content manner.
The video below shows more than two minutes of gameplay from The Lone Ranger play set. The footage predominantly shows Tonto as he completes various missions and side quests, although later parts of the demo (not shown here) had us switching in real time to the Lone Ranger to complete additional side quests.
We will have more hands-on information and impressions in the days to come. In the meantime, enjoy this exclusive E3 video clip of gameplay footage from the Disney Infinity Lone Ranger play set.