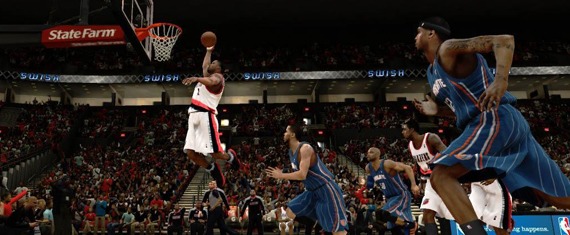 NBA basketball fans, listen up: the full NBA 2K14 soundtrack song list is out in the wild, and 2K Sports pulled a proverbial rabbit out of its hat by having the complete track list personally selected by LeBron James, the game's cover athlete. With that pedigree, it may surprise some fans of King James that the NBA 2K14 soundtrack boasts a rather eclectic mix of hip-hop, rock and classic pop.
If you want a sneak peek (sneak listen?) into the NBA 2K14 soundtrack, you can listen to the entire tracklist before the game ships on October 1 by streaming it on the NBA 2K14 Spotify page. The NBA 2K14 soundtrack outlined below will be identical across every version of the game: PlayStation 4 (PS4), PS3, Xbox One and Xbox 360 (pre-order any of them here
). No SKU will feature any bonus or special tracks.
2K Sports also confirmed today that NBA 2K14 will be an Xbox One launch game as well as a PS4 launch title.
"2K is letting me take control of some important elements in NBA 2K14, including this year's soundtrack," said LeBron James, who successfully defended the Miami Heat's world championship in the NBA Finals, while winning his second straight NBA Finals MVP award. "I love that I'm the first NBA 2K cover athlete to choose the soundtrack."
Here's the full list of songs LeBron chose for NBA 2K14:
Big Krit, Cool 2 be Southern
Cris Cab, Paradise (On Earth)
Coldplay, Lost!
Daft Punk (feat. Pharrell Williams), Get Lucky
Drake, Started From The Bottom
Eminem, Not Afraid
Fly Union, Long Run
Gorillaz, Clint Eastwood
Imagine Dragons, Radioactive
Jada Kiss (feat. Ayanna Irish), Can't Stop Me
Jay Z, The Ruler's Back
John Legend (feat. Rick Ross), Who Do We Think We Are
Kanye West, All Of The Lights
Kendrick Lamar, Now Or Never
Macklemore & Ryan Lewis (feat. Ray Dalton), Can't Hold Us
Nas (feat. Puff Daddy), Hate Me Now
Phil Collins, In The Air Tonight
Robin Thicke (feat. Pharrell), Blurred Lines
The Black Keys, Elevator
The Black Keys, Howlin For You
Fans who pre-order NBA 2K14 for the PS3 or Xbox 360 will receive the King James Bonus Pack at no extra cost on Day One (the game's day one, not to be confused with the Xbox One Day One Edition
console). The NBA 2K14 release date is October 1 in North America and October 4 internationally. NBA 2K14 will also be coming to PS4
and Xbox One on each system's respective launch date, as confirmed by 2K Games today.