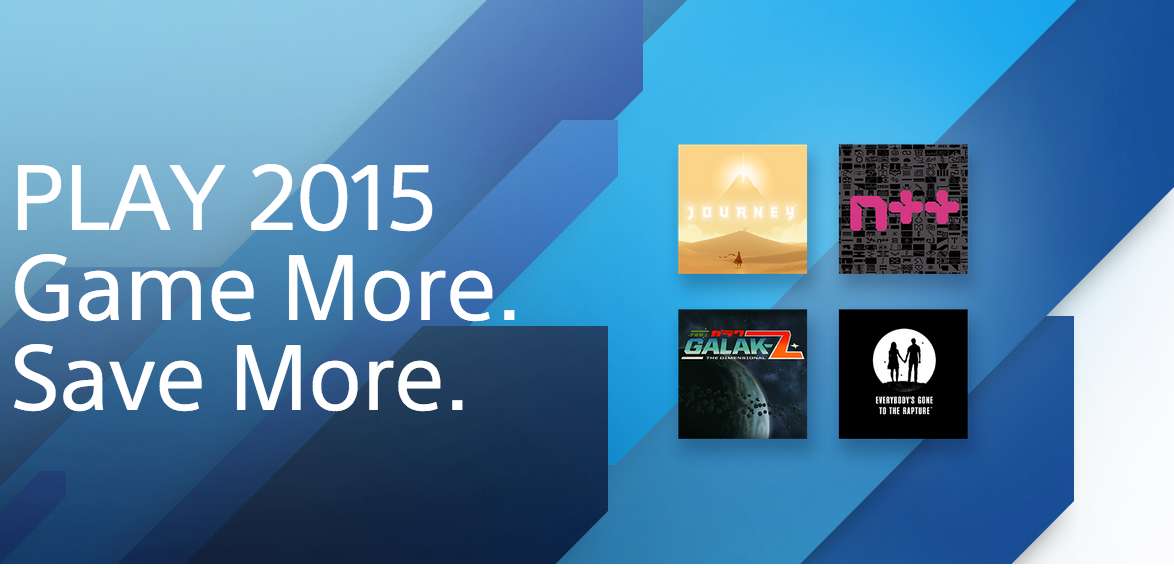 Sony Computer Entertainment America Announces Lineup of New PS4 Games for PlayStation®Store's Annual PLAY Summer Event
July 14, 2015 – Sony Computer Entertainment America LLC (SCEA) today announced the lineup of games for PlayStation®Store PLAY 2015, its annual summer program featuring brand new game launches and special offers. PLAY returns July 14 when this year's lineup – Journey, N++, GALAK-Z and Everybody's Gone to the Rapture – becomes available for pre-order on PlayStation®Store. PlayStation®Plus members who pre-order PLAY 2015 titles will receive a 20 percent discount.
This year's PLAY lineup features four digital titles launching over the next four weeks on the PlayStation®4 (PS4™). PLAY 2015 kicks off with the critically acclaimed Journey launching on July 21, followed by highly-anticipated titles N++ (July 28), GALAK-Z (August 4) and Everybody's Gone to the Rapture (August 11).
Users that purchase two or more PLAY 2015 titles from July 14 through August 18 will receive a coupon code* redeemable for a 10 percent in-cart discount on eligible items on PS Store.
July 21 – Journey
Journey for the PS4 system creates another opportunity for gamers everywhere to play the critically award winning title, now in stunning 1080p. Awakening in an unknown world, the player walks, glides, and flies through a vast and awe-inspiring landscape —teaming up with other strangers they meet along the way or traveling alone — while discovering the history of an ancient, mysterious civilization along the way.

Price: $14.99

PS Plus Pre-Order Price: $11.99
July 28 – N++
N++ is a fast-paced, action-packed puzzle-platformer set in the distant future. You play as a ninja — darting through obstacles, narrowly evading a slew of inadvertently homicidal enemy robots, and collecting gold in a minimalist, sci-fi world. You know, traditional ninja stuff. N++ has thousands of hand-crafted levels, each featuring a series of difficult challenges, diabolical traps, and a distinct visual style to nimbly soar through. And if that weren't enough, there's also a built-in level editor (plus global level sharing and leaderboards)!

Price: $19.99

PS Plus Pre-Order Price: $15.99
August 4 – GALAK-Z
Classic anime, '90s spaceship shooters, and precision arcade gameplay collide in GALAK-Z. Shockingly smart enemies work together and track your every move as you hone your skills to pilot your ship in zero gravity. A living and interactive environment serves as the stage for your physics-based death ballet in this hand-drawn homage to anime dreams.

Price: $19.99

PS Plus Pre-Order Price: $15.99
August 11 –Everybody's Gone to the Rapture
Everybody's Gone to the Rapture transports the player back to the moments leading up to the apocalypse to explore the choices people make when they're faced with world-shattering events beyond their control. Developed by the innovative studio behind the award-winning Dear Esther, The Chinese Room continues to push the genre of experimental storytelling with this PS4 exclusive.

Price: $19.99

PS Plus Pre-Order Price: $15.99
For more details about PS Store PLAY 2015, please visit https://www.sony.com/PLAY2015.