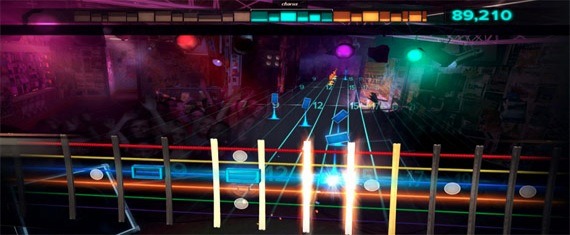 Reports of the death of the music-playing game genre have been grossly exaggerated, as a new Rocksmith 2014 Edition has been announced for the Xbox 360, PS3 and PC/Mac. Rocksmith 2014 Edition is the next installment in the Ubisoft franchise that has taught 1.4 million people worldwide how to play guitar. Rocksmith 2014 Edition will be available in October.
As with the previous installment, Rocksmith 2014 Edition allows players to plug any real guitar or bass directly into their console, PC or Mac to begin their musical journey. The first Rocksmith is already the fastest way to learn guitar according to a national study by Research Strategy Group Inc. Another study conducted by Toluna Group reported that 95% of Rocksmith players say it improved their guitar skills.
Rocksmith 2014 Edition has a completely redesigned interface and all-new features "to better teach the key elements of guitar playing," according to Ubisoft's game announcement. A new customizable "Riff Repeater" lets players select any section of a song they want to play and adjust the difficulty and speed on-the-fly. A new "Master Mode" makes playing by memory more approachable, and new "Guitarcade" mini-games have been created to hone specific guitar skills.
There's also a new technology called Session Mode that enables players of any skill level to play guitar with a virtual band that jams along with them. Players can select the style of music and the particular instruments they'd like to accompany them and the rest happens dynamically, adapting live while they play.
Rocksmith 2014 Edition also features a new track list with more than 50 hit tracks, including "Stone" by Alice In Chains, "Walk This Way" by Aerosmith, "Knockin' On Heaven's Door" by Bob Dylan, "The Chimera" by The Smashing Pumpkins, "Don't Look Back In Anger" by Oasis, "ultra soul" by B'z, a famous pop-rock Japanese band. Many more hits will be announced in the coming months.
Rocksmith 2014 Edition will retail for $79.99. Any players that already own the Rocksmith Real Tone Cable can save $20 by pre-ordering the "No Cable Included" Version for $59.99. Additionally, everyone who pre-orders any version from select U.S. retailers will get "Cherub Rock" by The Smashing Pumpkins as a free bonus song which will be downloadable when the game is available