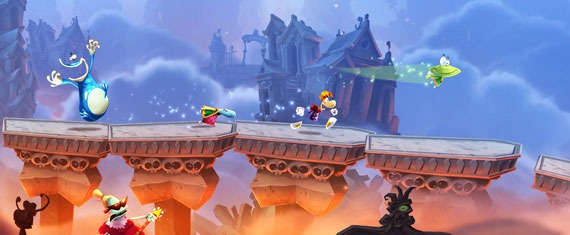 Today, Ubisoft announced Rayman Legends for Wii U, Xbox 360 and PS3, a game that's getting fantastic early reviews. The Rayman series has long been a fan favorite, but this latest outing seems to be tickling the fancy of even people who aren't as familiar with the franchise. The game currently has a Metacritic aggregate score of 90 on the Wii U, making it the highest rated Wii U title to date.
That pretty much means that if you own Nintendo's next-gen console, you should probably stop reading right now and go buy Rayman Legends from Amazon
. Naturally, Rayman Legends for Wii U is bound to be a particularly hot item.
Rayman Legends takes place 100 years after Rayman Origins. During the time — which Rayman filled with the world's longest nap, nightmares have infested the Glade of Dreams. Once Rayman awakes from his mysterious sleep, he must set off on a new adventure with his friends to restore order in the universe.
Rayman Legends for Wii U (and the other platforms) features a wide range of gameplay, including traditional Rayman platforming action and new music rhythm-based stages. The developers at Ubisoft have also created "multi-dimension gameplay elements," which we'd love to see for ourselves, as well as an improved lighting system and rendering engine.
The game supports playing by up to four people, although Rayman Legends for Wii U also exclusively supports a fifth player. This is possible by the player taking on the role of Murfy via the Nintendo Wii U GamePad controller. It's not just a single mode or gimmick, though; all of the game's adventures can be played by up to five players in Rayman Legends for Wii U.