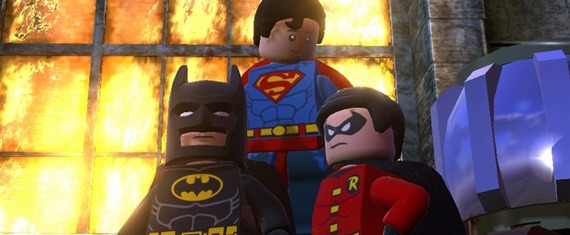 Warner Bros. Interactive and TT Games have shipped LEGO Batman 2: DC Super Heroes for the Wii U, a "new" release for a game that's already sold 3.5 million units worldwide on other platforms. You can read our review of the original non-Wii-U version here: LEGO Batman 2 review.
LEGO Batman 2: DC Super Heroes makes use of the Wii U GamePad, giving players the ability to use the touchscreen to assemble a team of powerful heroes suitable for any task, or utilize an enhanced interactive map to intuitively reach their next objective. Players can even tackle the whole experience on the GamePad's touchscreen in off-TV mode, or invite a friend to hop in on the TV without having to share screen space.
LEGO Batman 2: DC Super Heroes offers a humorous and endearing journey into the DC Universe, pitting the most memorable of DC superheroes against its most vile of villains, as part of a story that is fun for all ages. The LEGO version of Gotham City delivers a sprawling playground of exciting combat, imaginative puzzles and a near-endless number of collectibles.
Batman must defend Gotham with the help of powerful friends like Superman and Robin, to put a stop to the diabolical plans of Lex Luthor, The Joker and their entire team of super villains, including The Penguin and Harley Quinn. Encounter many of the Dark Knight's iconic allies and enemies in a charming, hilarious, family-friendly adventure full of exciting gameplay.