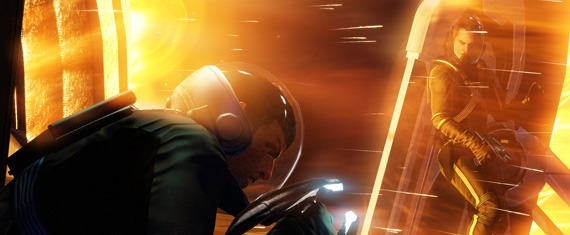 So there you are, wondering how on Earth (or off it) you're going to bear the wait for the Star Trek: Into Darkness movie, when all of a sudden Namco Bandai releases Star Trek: The Video Game
. Yes, your prayers (and ours) have been answered. Star Trek: The Video Game takes place between the events of the first JJ Abrams film and the upcoming sequel, and it marks the first time gamers can play as Kirk or Spock. Oh, and did I mention it's a co-op game?
Yes, that's sweet.
Playing as Kirk and Spock, players board the U.S.S. Enterprise and uncover a seemingly insurmountable threat by the rapacious enemy Gorn throughout the game. You'll remember the Gorn as the lizard race that Kirk fought against in The Original Series.
Star Trek: The Video Game features the voice talent of everyone from JJ Abrams' feature films (Chris Pine as Kirk, Zachary Quinto as Spock, Zoe Saldana as Uhura, Simon Pegg as Scotty, etc.) and requires players to work together cooperatively through the action-packed plot. The game is available today for Xbox 360, PS3 and PC. We recommend going through Amazon (links below), just for the sheer convenience of it all.