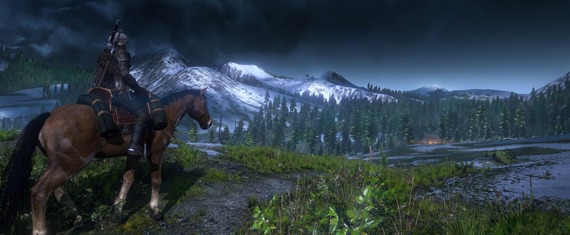 What do you get when you cross Game of Thrones, one of TV's biggest hits, with The Witcher 3, one of E3's biggest stars and a next-gen RPG everyone on Earth seems to want? You get a crazy opportunity to see fanboys froth at the mouth. Reason: Charles Dance, who's famous for his role in Game of Thrones, is providing the voice of Emperor Emhyr var Emreis in The Witcher 3: Wild Hunt.
If you don't know why it's big news for Charles Dance to Appear in The Witcher 3, you should know that Dance is an actor and screenwriter known for his roles in Alien 3, The Last Action Hero and Game of Thrones. Dance's role in The Witcher 3 will see him voice the mighty Nilfgaardian emperor Emhyr var Emreis. After Nilfgaard's invasion of the Northern Kingdoms at the end of The Witcher 2: Assassins of Kings, the emperor's forces ravaged these lands, sowing terror and despair.
In our annual Best of E3: Six Weeks Later Awards this year, we noted that The Witcher 3 "has more role-playing depth than Skyrim — certainly no small feat — and manages to remain next-gen gorgeous in spite of that scope." Indeed, the game looks awesome, as you can see in the brand-new trailer below.
The first installment in the Witcher series was released in 2007 for PC only. The second installment appeared on PC in 2011 and on Xbox 360 in 2012. The two games have sold more than five million copies to date. The Witcher 3: Wild Hunt will be released simultaneously for PC, Xbox One and PS4. It marks the first time a Witcher game will appear on a PlayStation console (the PS4). As for The Witcher 3 release date, only Warner Bros. Interactive and CD Projekt know for sure.
The Witcher 3 gameplay trailer below, called "Killing Monsters," shows No Man's Land. This region is part of the North and under Nilfgaardian rule, which means it's under the control of Dance's newest character, Emperor Emhyr var Emreis.