A new Xbox One Halo game debuted at Microsoft's E3 press conference this week, about an hour after we predicted it would based on seeing Frank O'Connor among the VIP attendees. Turns out, that may not be the only Halo-related news this week, as Steven Spielberg just predicted the "implosion" of the movie industry, a comment that may explain why Spielberg is working on a Halo TV series.
As first covered by The Hollywood Reporter, Spielberg and George Lucas were members of a panel at USC celebrating the opening of the Interactive Media Building, part of the USC School of Cinematic Arts. During the presentation, Spielberg said "there's eventually going to be an implosion — or a big meltdown [of the movie industry]. There's going to be an implosion where three or four or maybe even a half-dozen megabudget movies are going to go crashing into the ground, and that's going to change the paradigm."
George Lucas agreed with Spielberg, saying that "the pathway to get into theaters is really getting smaller and smaller." For two iconic producers/directors to make these observations is a tad troubling, but it may pave the way for more interactive and console-delivered content. It may also explain Spielberg's involvement in the Halo TV series.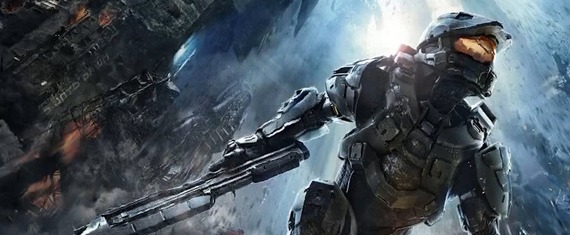 During the Xbox One reveal event, Microsoft chose to highlight the Xbox One's entertainment capabilities. As part of that entertainment focus, Spielberg came on camera to announce a partnership he's forged with Microsoft to make a Halo TV show. At the time it seemed to be a massive coup, both from a franchise and TV-programming standpoint. But now knowing Spielberg's thoughts on the overall movie industry, his choice to create a console-delivered TV show makes total sense.
If the movie industry's paradigm is shifting, and if it's harder for even the biggest of big-name producers/directors to get films into theaters, it makes absolute sense for Hollywood icons like Steven Spielberg to diversify their media choices. You'd better believe Hollywood has taken note of the PS3 and Xbox 360 being used more for movies and TV than actual gaming. Spielberg is no stranger to videogames — remember his involvement in EA's BoomBlox — so he's followed the latest console generation very closely. Heck, he's probably pre-ordered an Xbox One as well, maybe even put in his PS4 pre-order. Now he's transitioning that involvement from the game to TV/production side, which based on his comments at USC should now surprise no one.
When Steven Spielberg predicts the implosion of the movie industry, people take notice. When he launches a new Halo TV series on the Xbox One and/or Xbox 360, people will watch with incredible interest. To think the two actions are unrelated is comical. Spielberg sees big-budget theatrical releases as the forerunner to the meltdown of the movie industry. No wonder he's working on a Halo TV series. And no wonder Microsoft, with its laser-like focus on the Xbox One as an entertainment console, parlayed his current line of thinking into a contract to produce an exclusive Halo TV series.