Although Amazon has made PS4 launch day bundles available again for a limited time, the Xbox One Day One Edition at Amazon is still marked as "sold out," leaving many gamers in despair that they won't be getting Microsoft's next-gen console on the actual Xbox One release date. Short of the Amazon bundles, there's no other way to get Sony's console on the PS4 release date, and it has appeared that would-be Xbox One owners are out of luck as well. But fear not; one outlet still has the coveted release-day consoles still available for pre-order.
The only retailer still offering a guaranteed Xbox One Day One Edition pre order is, not surprisingly, the Microsoft Store. The Microsoft Store is a chain of retail stores owned and operated by Microsoft that sells computers, software, Surface tablets and Xbox-related products. With 74 Microsoft Stores across the United States, you may not have one nearby, but the company's latest venture has thrown a few shopping-mall kiosks into the mix, a strategy that may result in a few more outlets popping up this holiday. Granted, a kiosk popping up this November — when the Xbox One release date is expected to hit — may seem too late.
Presuming you have a store nearby now, though, these retail outlets are currently the only way to get an Xbox One Day One Edition without waiting in line in November. You will have to pre-order the system, though. Fortunately, as you can see from the photo below (taken July 24), the $50 Xbox One Day One Edition pre order deposit is completely refundable if you change your mind. You can also put down a $10 refundable deposit on a number of games, which may or may not be available as Xbox One launch games on the Xbox One release date (neither the salesperson nor the receipt specified).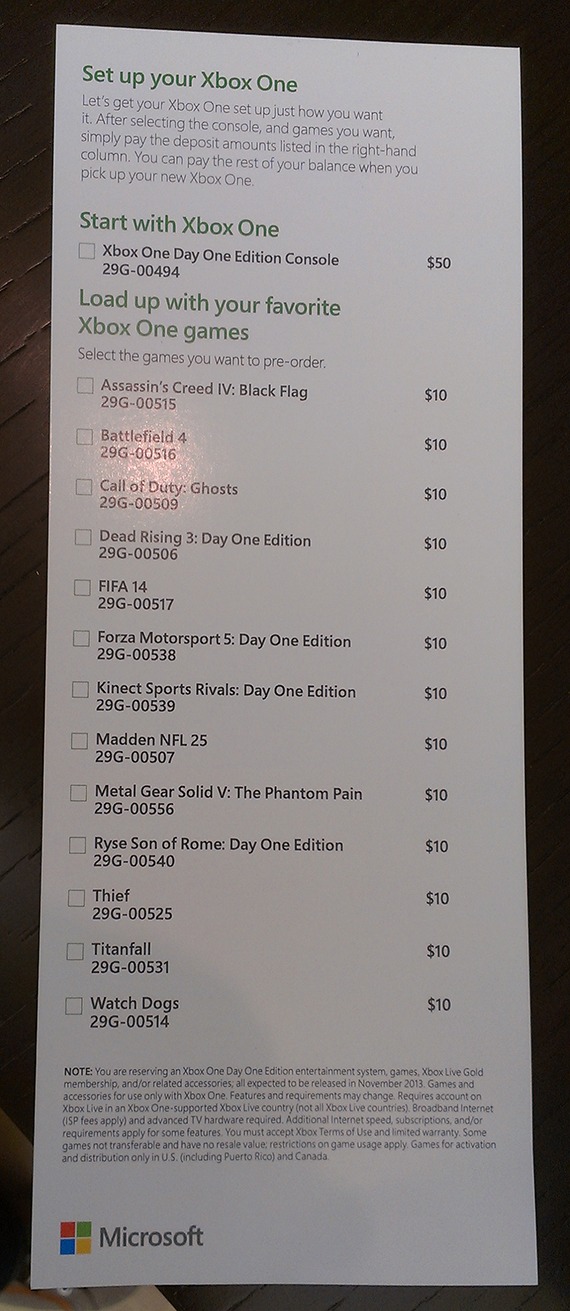 According to the bottom of the Xbox One Day One Edition pre order slip from the Microsoft store, "You are reserving an Xbox One Day One Edition entertainment system, games, Xbox Live Gold membership, and/or related accessories; all expected to release in November 2013. Games and accessories for use only with Xbox One. Features and requirements may change. Requires account on Xbox Live in an Xbox One-supported Xbox Live country (not all Xbox Live countries). … Some games not transferable and have no resale value; restrictions on game usage apply."
A few key takeaways from that form: Microsoft is still guaranteeing pre-orders for the Xbox One Day One Edition, and some games are not transferable. Before people panic about that last statement being a re-reversal of the DRM and used-game policy, though, it's likely just a matter of XBLA and other downloadable Xbox One launch games not being transferable from one console to the next. That's to be expected.
Either way, if you're hoping to get your hands on an Xbox One Day One Edition, a retail Microsoft Store is the only way to get one other than standing in line on a cold November night. So, either boogie over to the closest MSFT store near you, or just sit tight and pre-order the Xbox One Standard Edition from Amazon and wait for them to deliver the console to your door when it's available.