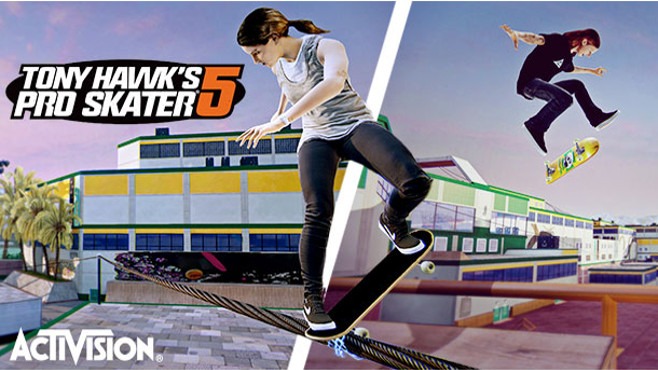 SANTA MONICA, Calif. – August 26, 2015 – Today Activision Publishing, Inc. shared a new behind-the-scenes trailer for Tony Hawk's® Pro Skater™ 5 that chronicles each of the skateboarding professionals in the game. There are riders from different eras of skateboarding sharing their perspectives on gaming history and how the classic THPS games intersected with the ever-progressing skateboarding scene, as well as what it's been like to participate in THPS5.
Tony Hawk himself oversaw the inclusion of the following pros in THPS5: Nyjah Huston, Riley Hawk, Aaron "Jaws" Homoki, Ishod Wair, Leticia Bufoni, Chris Cole, David Gonzalez, Andrew Reynolds, and Lizzie Armanto.
"I wanted a mix of pros that represent the diversity of skating today. Ishod Wair, David Gonzalez, and my son Riley were obvious choices because of their versatility and relevancy to modern skaters. The girls are represented well with two of the best: Leticia Bufoni on street and Lizzie Armanto on transition. Andrew Reynolds (aka The Boss) is still considered one of the best, so he is back representing the OG THPS skaters. Chris Cole and Nyjah Huston are contest dominators and phenomenal talents," said Tony Hawk. "And Aaron 'Jaws' Homoki, is a modern-day stuntman on a skateboard, dropping off the biggest stuff he can find. He was a perfect fit for the over-the-top action of THPS5."
Tony Hawk's Pro Skater 5 rekindles the signature style of classic Pro Skater games in a brand-new set of levels with the same renowned focus on daring objectives, fine-tuned controls – including manuals and reverts – for endless shredding and high-score tricks. On PlayStation®4 and Xbox One, players will enjoy seamless online multiplayer, letting them drop in and out of online skate sessions with up to 20 challengers at one time. Complete missions, unlock new content and level up online or offline, or go head-to-head on the fly against all takers in competitive matches. Players can also build their own skateparks to share with the community.
Tony Hawk's Pro Skater 5 is scheduled to launch in North America on Sept. 29, 2015 for the PlayStation®4 computer entertainment system and Xbox One for $59.99. The game is also planned for release without online play on Xbox 360 and the PlayStation®3 computer entertainment system on Nov. 10 for $39.99.
Join the community on Facebook at facebook.com/TonyHawkGames and on Twitter and Instagram at @tonyhawkgames.