When announcing the Nintendo Wii 2 will ship in 2012, Nintendo president Satoru Iwata told Bloomberg News, "We would like to propose a new approach to home video game consoles" with the Wii successor. Meanwhile, the Wii 2 hardware rumors mention features like dual analog sticks, a six-inch touchscreen and games that stream directly to the controller. Add multiple cores and a much better GPU, not to mention improved memory specs on top of that, and what do you have?
Well, from the sound of things, you have a Zelda 4 Swords-like experience right out of the box. And the Wii 2 could even be an OnLive for the home system.
The Wii 2 codename inside Nintendo HQ is "Project Cafe." In other words, the Wii 2 serves up everything. Next-gen optical disc-based games, at least for Nintendo. Backwards compatibility. Old games. Handheld games on your controller. Standard controller-based games. And let's not forget the physical Wii "motion control" games.
The touchscreen would be a way to use those extra cores, GPU power and more RAM in the Wii 2 for something other than just better graphics. Like, say, an experience a la Zelda 4 Swords.
If you don't remember 4 Swords or never played it, its ideal experience required four Gameboys to be used as controllers, along with four cables and four people. That's in addition to the game and the GameCube itself. At various points in the game you could go through a hole in the ground and then play on your private GameBoy screen while your friends might still be in the overworld on the TV screen. I never played it with the Gameboy setup myself, although I played it as a two-player co-op game. The holes in the ground presented even simpler 2D graphics than what players saw on the TV screen so the GameBoy could pull them off. I bet for sure we see this functionality with the Wii 2 as well, if these rumors have some truth in them.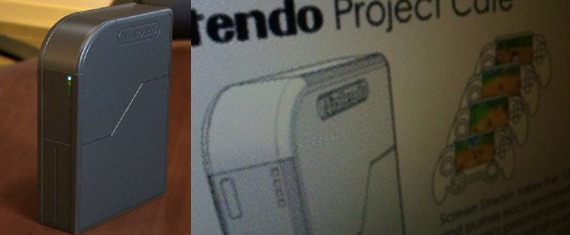 But we could see more than that. Games could be made specifically for the controllers, some sketches of which you see on the right-hand side of the image above (along with what's supposedly a prototype case for the Wii 2 hardware). Simple games, mind you — think iPhone / iTouch / iPad games — and they could be downloaded to the controller by the Wii 2. I can imagine this being a nice feature for a family. You could use the controllers as handhelds for the home, in addition to using them with the TV screen. Maybe you could even play games against each other just on the controllers.
The most far-out use of the rumored features is the Wii 2 acting like an OnLive server for the home. The Wii 2 would stream games to the controllers in real time, with the latency being quite good because you aren't going through the Internet like you do with OnLive. And the bandwidth of your home network is much greater than your internet bandwidth.
The technology to process video streams is fairly cheap. An AppleTV is $100 and processes 720p streams with an internal power supply, 8GB of flash memory and optical and HDMI ports. A Roku is $80 at most and does the same things. A controller wouldn't have to have nearly the chip inside it to process content for a six-inch screen, particularly if the content is less graphically advanced. A screen-based Wii 2 controller also wouldn't need nearly the cache memory either. This all seems doable for a $60-ish controller, which is what the Wii Remote and Nunchuk have as their list price.
Again, I can also imagine the Wii 2 controller being a "within range of a Wii 2" handheld on which you can play multiplayer games. Could the Wii 2 be capable of streaming first-person shooters to the controllers? Just think of an FPS that you can play against friends while you all kick back on your deck, each with his or her own touchscreen controller.
And don't forget: this would be a bonus feature. An extra. You already have the console. Only now your controllers act like handhelds when within the range of a Wii 2.
Knowing how conservative Nintendo is, and the fact they have a handheld in the market, why would they mess around with games for a handheld controller only? Maybe it's just the Zelda 4 Swords experience along with whatever other creative ways developers can use a private vs. public screen in-game. Plus, maybe battery life for a controller that is also streaming WiFi data wouldn't be too good.
And some of the basic uses of a touchscreen are right out of the Nintendo DS playbook. A touchscreen would mean gestures are possible. It would mean software programmable buttons. Different layouts for different games. And stylus-type input also could make sense. A Wii 2 touchscreen controller also solves gaming problems such as screen clutter. Your map could be on the touchscreen. Your inventory. Health. This would be just another riff on the DS and its two screens. And it's all very plausible.
What doesn't make as much sense is how one rationalizes these touchscreen controller rumors with the success of the Wii Remote/Nunchuk in the current hardware generation. Do they really pack-in both controllers? Do they give up on the Wii Remote? Do they just not pack in a remote and let folks carry them over from the Wii and use the same Wii Remotes with the Wii 2 for a few games?
Big questions remain. And many big answers will come in six weeks.
This op/ed piece was written by a DailyGame member via a new tool that allows every DailyGame member to create a free blog. Care to write your own blog entry and start on your path to Internet fame? Learn all about it here.