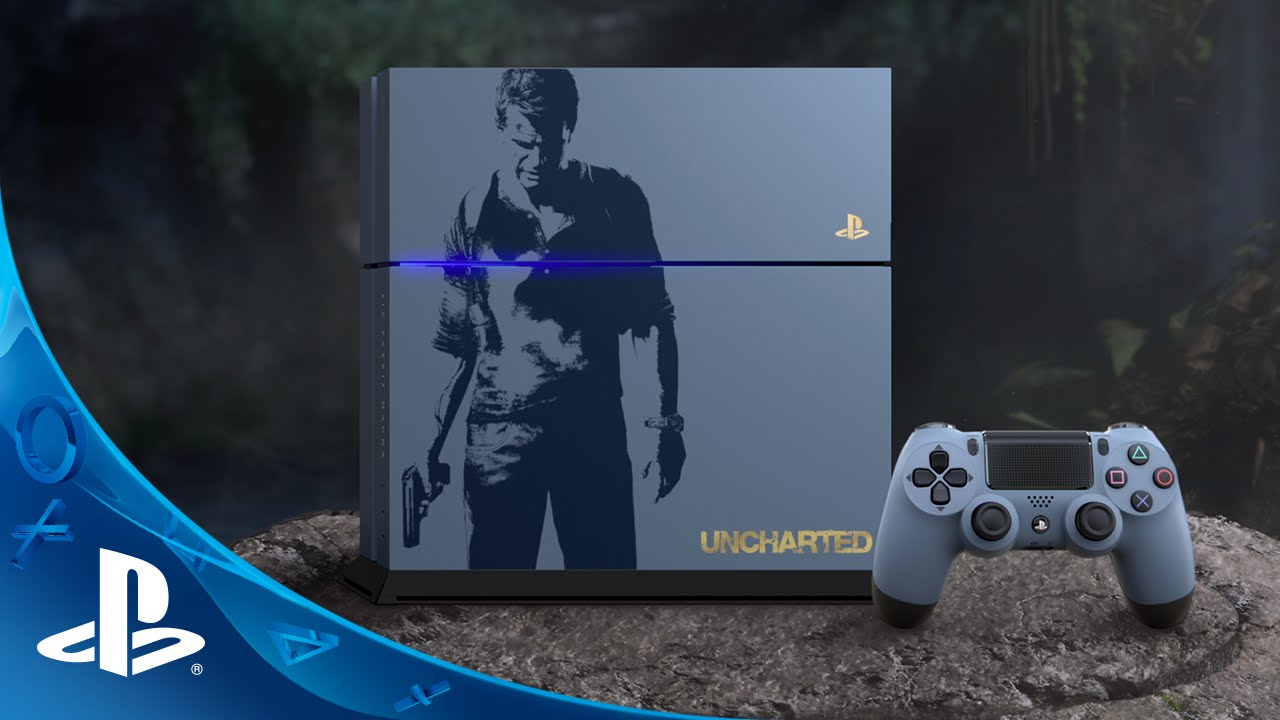 Every new PlayStation has better features that considerably improve the gaming experience. The PlayStation 4 is no exception. If you are a fan of the Uncharted game series, you are in for a real treat. You now have the chance to walk away with a Limited Edition Uncharted 4 PlayStation 4. The latest model comes equipped with new highlights as well as Uncharted 4 themes.
PlayStation is one of the highest selling game consoles and this comes as no surprise. The superior quality and excellent gaming experience makes this console a must-have for any serious gamer. PlayStation 4 500 GB, is one of the best consoles yet with a multitude of features:
Revolutionary graphics – the new graphics create a whole new world for eager gamers. The next gen processing of the new PlayStation also means that you are able to get to your games faster than ever before.
Suspend mode – you can now instantly return to the last position on your game without any delay. There is now no more load time on your saved game. Instead, you can press the power button and return to the exact moment that you stopped the game.
Share your experience – join the gaming community and put your talents to the test with the different challenges. You can now share your impressive wins with others by using the 'share' button provided on the controller. You have to press the share button, review the last few moments of the game and tag it. You can then go back to your game as the video uploads. You can also broadcast your game in real-time.
Remote play – you can now easily switch over to PlayStation Vita's system. Using a Wi-Fi network you will be able to effortlessly transition from one device to another. The PlayStation controls will be mapped onto the PlayStation Vita system.
Custom theme – the PlayStation 4 is covered in a custom Uncharted 4 theme. The PS4 has a Gray Blue Thief's End silk screened artwork printed on it.
Matching controller – this bundle includes a DualShock 4 Wireless Controller that matches the Uncharted 4 console theme.
Uncharted 4 game – you will also receive a brand new Uncharted 4: A Thief's End game on a Blu-ray disc.
This Limited Edition bundle is currently priced at $399.99 on Amazon. You, however, can get your hands on it for absolutely free. The only effort that you have to make is to enter this contest.
To enter to win a new Playstation 4, simply complete and submit the entry form below by 11:59 pm PST on July 31, 2016. This contest is open to anyone around the world 13 years old or older. Entries can be submitted once per day per email address. The more entries you have, the more your chances of winning. Winners will be randomly chosen. Odds of winning vary based on the number of entries received and can be increased by coming back to enter every day and/or with different email addresses.
Good luck in your endeavors!