The whole purpose of a handheld gaming system, no matter how high-definition or innovative, is to take your games on the road. No wires, no TV, no walls; just you, your games and a portable device. To pull this off, of course, requires a setup that actually enables you to play on the road: things like a charger, travel case and a few select goodies to keep you playing for hours on end. Sony's new PlayStation Vita (PS Vita) is a killer portable gaming machine, with a host of non-gaming multimedia functions as well. But taking it on the road for extended periods requires a travel kit, as it were. And funny thing, Sony just so happens to have one: the Official PlayStation Vita Travel Kit.
The PS Vita Travel Kit can be hard to find – it's not currently available on Amazon, for instance – but MobileFun has them in stock, along with a slew of PS Vita covers and PS Vita accessories. At first blush it can seem a bit superfluous to purchase a travel kit, but with the PS Vita's price tag and functionality it's definitely something you want to sufficiently protect while using it out and about.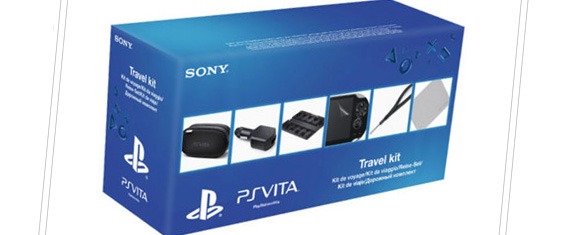 Most of the items in the Official PS Vita Travel Kit are essentials for on-the-go gaming, including a 12v car charger (that requires the PS Vita's original USB-based charging cable), a plush protective cover that keeps the Vita protected in your backpack (and stores up to six games), a plastic (EVA) case that holds eight game cartridges and two memory cards, and an anti-smudge cleaning cloth. The wrist strap is essentially forgettable – who wants to hang that thing on such a fashionable piece of hardware? – but its inclusion is at least worth noting. The screen protector, though, is sheer genius, as it keeps the front of your PS Vita completely free of fingerprints and has more clarity than I've ever seen in a screen protector. Normally such clarity would be "cool," but with the PS Vita it's absolutely essential. Sullying the Vita's OLED display with a subpar protector would be an absolute shame, yet there's a reason Sony included this specific protector in the Official PS Vita Travel Kit: it's damn near invisible.
For the $30 or so price tag, the Official PS Vita Travel Kit is definitely worth the price. The Vita's not only new and therefore worth protecting, it's also a gorgeous piece of hardware that you'll want to keep intact. This travel kit allows you to do just that, while also maximizing your play time and the number of games you can take on the road. Don't cobble something together using old PSP accessories; go grab the Official PS Vita Travel Kit and call it a day.
Score: 9 — You'll want to protect your investment and make sure it's functional on the road. This Travel Kit lets you do just that, and without needing to break the bank to do so.