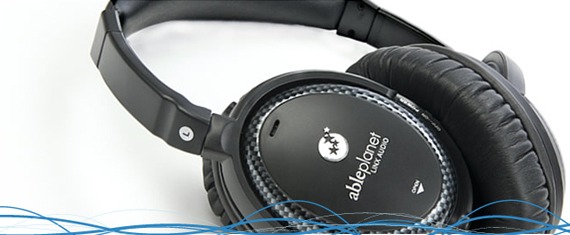 Able Planet may not come immediately to mind when thinking of headphone companies, but sometimes it's the hidden gems that prove the most valuable. Up against marketing heavyweights like Bose and Beats by Dre, most headphone companies find the road to success to be an uphill battle. Fortunately for Able Planet – which is attending E3 with new gaming headphones – their patented LINX Audio technology gives it a distinct advantage: unparalleled audio quality. I recently had the chance to test a pair of Able Planet's Clear Harmony NC1050 active noise-canceling headphones in a series of cross-country trips and came away impressed with the overall experience.
During airplane evaluations of three manufacturers' noise-canceling headphones, the Able Planet Clear Harmony NC1050 Noise-Canceling Headphones
continually demonstrated the highest fidelity sound and richest audio I've ever heard. I've used headphones from heavily marketed companies in addition to the three I recently evaluated, and the LINX Audio technology in the NC1050 set — and all Able Planet headphones — produced an unequalled audio quality. The clarity of vocals and depth of bass were especially impressive, even when listening to a classical-music radio station's streaming version in the office. DJs and performers sound as if they're sitting next to you, every instrument comes through loud and clear, and you never have to worry about cranking up the volume just to hear a specific element. The balance and clarity are beyond comparison, even at low volumes.
That "low volume" consideration is one of Able Planet's key tenets: to preserve and protect customers' hearing. In a world where business travelers and teenagers alike are surrounded by deafening decibels, the LINX Audio lineup is designed to let users enjoy the music at the lowest possible volumes. Amazingly, even for someone who likes to "crank it" from time to time, I never found myself craving higher volumes, even for energetic workout songs. I soon realized that I often turn up the volume simply to drown out the rest of the world and focus on the music. The Able Planet NC1050 noise-canceling headphones
let me focus on the music at home and in the office without elevating the volume, which will surely be a benefit over time.
In the air, which is where I purposefully wanted to drown out that noise, the NC1050 didn't perform as well. Over the course of three separate cross-country flights, the noise-canceling elements consistently failed to perform as well as the two other manufacturers whose sets I was evaluating. In some cases, the NC1050 headphones actually picked up so much interference that the "noise" was more prominent than the music I was trying to listen to. This wasn't the normal hissing you'd expect to encounter in an active noise-canceling headphone; it can best be described as interference that changed the tone of environmental noises rather than cancel them out. I brought this up with an Able Planet representative, who said it was likely due to the microphone picking up audio. That may very well be true, but I didn't encounter a similar effect in any of the other models I was evaluating. I even switched among all three headphones during the same flight — causing my fellow travelers to think I was obsessive — and it was regularly shown to be a unique downfall of the NC1050 headphones.
The NC1050 box includes everything to be successful on a trip: a 3.5mm plug for iDevice, tablet or laptop use; an airplane jack adapter; two AAA batteries (they provide 50 to 60 hours of use); a hard protective carrying case; a cord with in-wire volume control; and even a 1/4-inch home stereo adapter. It's this thorough inclusion of supplies that makes the airplane issues all the more bittersweet, although the issues may have just been limited to the 737s and Bombardier aircraft on which I flew during the evaluations. Able Planet clearly outfits you with all the pieces you need to use the NC1050 headphones for years, and if you buy the headphones from Able Planet's website, you'll even get a free gift of a 16GB iPod Touch (MSRP $189.90). That's a nice freebie.
If you're only an occasional airplane traveler, though, you'll be hard-pressed to find a noise-canceling headphone with better audio quality. I've tested no fewer than six different headphones, both noise-canceling and not, and never have I heard audio of this caliber. Immersive and clear, the NC1050 reproduces the finest sound you'll hear this side of a personal concert. If you're focused primarily on drowning out the low din of office chatter and the home environment, you can't go wrong with this set.
Click the following link to check the pricing on Amazon: Able Planet NC1050 Noise-Canceling Headphones at Amazon.com
.
Score: 8.8 — With unmatched audio fidelity and a 50- to 60-hour battery life, Able Planet's Clear Harmony NC1050 headphones are ideal for home and business use. If you're a frequent airplane traveler they have some unique shortcomings, but other than that they're the only headphone you'll ever need to own.