From the "OMG this could be sweet!" desk comes a pre-E3 unveiling of a co-op Star Trek game for Xbox 360 and PS3 that will let gamers play as Kirk and Spock. The game, which will ship in the summer of 2012, will have an original story that continues the adventure from J.J. Abrams' 2009 feature film "Star Trek."
Star Trek for Xbox 360 and PS3 has "action-packed combat" in which Kirk and Spock must work together to stop a legendary enemy race bent on conquering the galaxy. Star Trek features an original story by God of War writer Marianne Krawczyk, in collaboration with the writer/producers of the new Star Trek films, Bob Orci and Alex Kurtzman.
The game is under development by Digital Extremes, which is responsible for Bioshock 2, Unreal Tournament, Dark Sector and The Darkness II. Yeah, that's a great team behind it.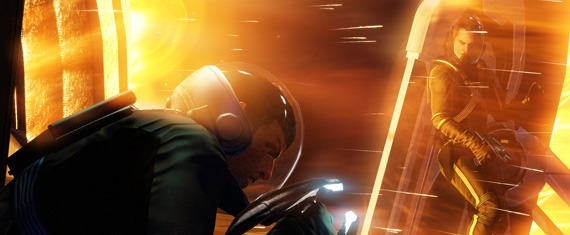 Tom Lesinski, President of Paramount Digital Entertainment, said of the game: "Star Trek challenges the boundaries of co-op gameplay with a galactic adventure that gamers and fans have never experienced. Working closely with the Star Trek filmmaking team throughout development, the game is sure to deliver AAA production values, a wide variety of gameplay and all the action you would expect from the hit franchise. This will be the definitive Star Trek gaming experience."
We've already booked our behind-closed-doors E3 appointment with Paramount, so stay tuned next week for our insight into how the game looks, feels and delivers on Mr. Lesinki's promise.