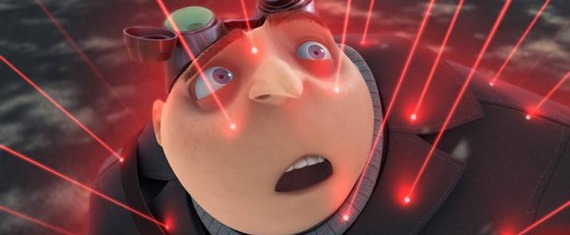 Despicable Me achieved a few unique milestones in my home theater experience, including being the first CG film that I felt did justice to 3D Blu-ray and being the first 3D Blu-ray movie to support D-BOX Motion Code. I've espoused the virtues of D-BOX for the past three years, and although our D-BOX reviews haven't appeared with the regularity of our videogame or Blu-ray reviews, it's through no fault of the technology or its quality. In fact, when I realized Despicable Me supported both 3D and D-BOX, I high-tailed it to the TV to see how it would perform. D-BOX Motion Code can be one of the most immersive additions to any home theater setup, 3D or not, so to hear that a 3D Blu-ray would double down with D-BOX support had me darn near giddy.
By the time the end credits rolled, the Despicable Me D-BOX experience didn't deliver everything I'd expected, but there was no way it realistically could have ever lived up to my own hype. Adoration for technology has a way of doing that to expectations, after all. But while D-BOX has "saved" quite a few films, Despicable Me in 3D needed no saving. With this film, D-BOX made the experience more immersive than 3D could've achieved alone.
Some of Despicable Me's most poignant 3D effects take place during aerial sequences. Well, much like D-BOX does car scenes well, it also handles flight scenes with aplomb. So when the film's two masterminds trade rocket shots in mid-air, not only do the 3D gags deliver great video effects, but the impacts of those rockets and the swerving of the ships deliver great directional movement. Even the firing of those rockets delivers an impact, as the left and right sides of the chair vibrate independently to reflect the rockets' propulsion, and automatic weapon fire pelts the back of the chair as it does in the best D-BOX-equipped action films.
Yet Despicable Me isn't an action film — it's a comedy at heart — which makes for some unique experiences when it comes to D-BOX. For instance, there's one scene where the nearly-washed-up Gru drops Mission Impossible-style into the lair of Vector to try to get the shrink-ray gun, but with almost Austin Powers-like results. The Motion Code handles the scene as well as can be expected, delivering Tom Cruise-like "serious" effects when necessary but never shirking from a few comedic impacts during the scene's more slapstick moments.
However, an equally comedic scene when Gru goes on a roller coaster with his would-be daughters doesn't deliver quite the same level of impact, literal or figurative. The first-person perspective for much of this scene seemingly warrants intense Motion, especially on the G force-induced downhills, but the movement is especially muted in those areas. In fact, the airplane sandstorm scene in The Mummy delivers better up/down D-BOX effects than this roller coaster scene, which is really quite disappointing. The side to side motions are fine, but real-life roller coasters live and die by their hills and G forces, and you'd never know that based on the Motion Code in this scene.
Still, that's just one scene, and the majority of Despicable Me's D-BOX action is associated with cars, combat and airplanes, all of which D-BOX does well. It's weird to feel these effects on a comedy, since D-BOX generally focuses on action, but they're implemented as well as you'd expect. Had Despicable Me not been in 3D, I wouldn't have been as hyped about the D-BOX implementation and wouldn't have had such mixed emotions. Taken as a purely D-BOX experience, Despicable Me is a fun if not essential home theater experience. As a 3D-meets-D-BOX experience, though, Despicable Me shows that the future is bright for the combination of the two technologies, even if it doesn't shine quite as brightly as I'd hoped for in this first outing.
Click here to buy Despicable Me on Blu-ray (includes 3D Blu-ray version)
from Amazon.com.