My daily commute has recently gone from 10-15 minutes to 40-50 minutes each way. Needless to say, I'm having to get friendly with talk radio. After particularly stressful days, I've found myself getting upset with the rush hour phenomenon. A few times I've even been on the verge of road rage — and not The Simpsons videogame type. After one such recent commute, I noticed a Nicolas Cage Blu-ray 3D movie I'd been holding onto for just the right occasion. Well, that was the night; Drive Angry found its way almost immediately onto the 3DTV screen.
Nicolas Cage hasn't had a good run lately, and any film called "Drive Angry" is bound to inspire some eye rolls. Sure enough, Drive Angry is no cinematic masterpiece. In fact, I won't go into a plot analysis because it would be a waste of everyone's time. For context, just check out the official marketing recap of Drive Angry from the back of the Blu-ray 3D box:
"Nicolas Cage stars as Milton, an undead felon who breaks out of Hell to avenge his murdered daughter and rescue her kidnapped baby from a band of cult-worshipping savages. Joined by tough-as-nails Piper (Amber Heard), the two set off on a rampage of redemption, all while being pursued by an enigmatic killer (William Fichtner) who has been sent by the Devil to retrieve Milton and deliver him back to Hell."
Yep, Drive Angry is just as crazy and convoluted as that sounds. It's cheesy as hell. Its dialogue is garbage. The acting is overdone and underwhelming. Yet I still smile when I think about it all. Drive Angry is incredibly campy and intentionally bad; so bad, in fact, that it's funny. How else are you supposed to respond to a movie whose first big gang fight doubles as what's probably the industry's first gunfight sex scene?
Will I ever watch Drive Angry on Blu-ray 3D again? Not likely. But if you don't mind setting aside your brain for 105 minutes, Drive Angry includes some entertaining and occasionally good 3D effects that make the experience worth watching, even if it does require a mild state of drunkenness.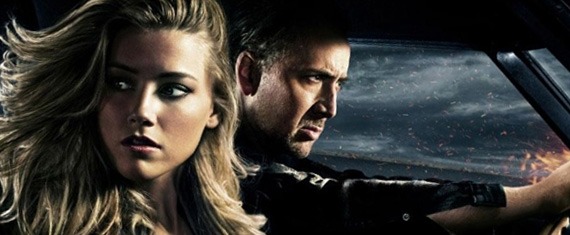 The opening sequence sets the 3D stage incredibly well, with a truck swerving through the street as its redneck passengers try to evade the undead Cage. The best 3D effects in any film are contained within the screen rather than expanded beyond the 3DTV's bezel, and this sequence understands and embraces that truth. With amazing 1080p clarity, the truck darts around corners, blows leaves around the screen and leverages the various camera angles to drive attention to the in-cab depth as well. When Cage eventually runs them down, there's also plenty of 3D gore like hands blowing off toward the camera. Cheesy? Yes. A weird ending to an otherwise nice three-dimensional scene? You bet. But Drive Angry isn't gunning for the Oscars. It's just about gunning.
Throughout the film, the cinematographers make surprisingly good use of foreground/background compositions when setting up their scenes, even when the frame is only composed of cast members. Often times a Blu-ray 3D focuses on dimensionality only with key set pieces. In Drive Angry, every sequence seems composed with 3D effects in mind.
With that said, the midpoint of the movie really doesn't achieve much in terms of its 3D effects, particularly when compared with the opening one-third of the film. This isn't due to any different 3D treatments, but because there's simply too much action going on at once for viewers to focus on the depth. In fact, the best 3D in the midpoint of the movie comes when Cage and Heard are pushing a car in the background while a wheat field in the foreground provides dynamic depth.
Things conclude rather quickly in the end, both with the film and its 3D, as an exploding hydrogen truck delivers cheesy flying debris and a climactic battle shows more dimensional guns and vehicles pointed at the screen than any other part of the film. The effects are par for the course on the whole, but I will admit that they feel a bit "cheap" when compared with some of the subtler-yet-better 3D effects sprinkled throughout.
Again, though, the film's called "Drive Angry," and its plot reads like something from fifth-grade composition. I didn't expect anything other than cheese and gore, so in that regard the ending is entirely appropriate. The fact that Drive Angry delivers some surprisingly capable 3D effects amid the train wreck of a story brought a smile to my face even after I'd been driving angrily myself that evening. In my book, that's a Blu-ray 3D victory no matter how you slice it.
Click here to buy Drive Angry from Amazon.com: Drive Angry [Blu-ray 3D]
.
Score: 7 — Drive Angry will win no awards for plot, acting or editing, but even its cheesy 3D effects are surprisingly upscale for what otherwise feels like a low-brow, low-budget movie.