Home to the first press conference of CES 2012, LG Electronics tried to be the pace car for the rest of the day's (and show's) proceedings. No matter how hard a slew of bad jokes tried to bring them down, LG largely succeeded with enough innovative products to justifiably own your entire home electronics ecosystem. They covered essentially everything from the man cave (nice TVs) to family essentials (smart appliances) to the everyday (smartphones), and I came away impressed each time.
LG's 3D Cinema line of 3D TVs was the most-popular 3D TV in the United States in 2011, according to LG, and since that topic is near and dear to our heart, we enjoyed hearing more about their plans for 2012. LG certainly isn't resting on its laurels, starting with an expansion to its Magic Remote system. LG's making updates to ensure that it has a scrolling function for easier navigation, and they're baking voice recognition into the Magic Remote as well. But it's their cameras and 3D gesture-based recognition that really has us interested.
Taking a page out of Microsoft's Xbox 360 Kinect playbook, LG's gesture-based system utilizes a camera so viewers can interact with the TV by swiping at the air to navigate, use their voice to issue simple commands, interact with the Magic Remote and even play games. We haven't yet had a chance to swing by the LG booth at CES 2012, but the concept sounds intriguing, and we're curious to see how it rates compared to the Kinect. The game lineup should be particularly interesting, including any potential integration with Xbox 360 Kinect. Supposedly Microsoft's trying to integrate Kinect into a variety of sets. Is this the company's first secret salvo?
LG didn't stop there on the TV train, announcing it will launch a Google TV running Google TV 2.0 that's fully 3D capable and supports HTML 5 and apps. The company's also working on glasses-free technology that should help consumers feel that even life in the 3D TV world is good (read: inexpensive and accessible by a larger group of in-room viewers).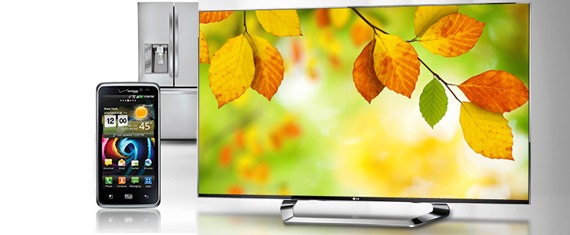 LG wrapped things up by announcing a 55-inch OLED Cinema 3D Smart TV that's the world's thinnest, largest and lightest OLED set. Just 4mm thick and weighing 16.5 pounds, the 55EM9600 is fully compatible with all of LG's current 3D glasses and should get plenty of people's attention when it becomes commercially available. Its combination of functionality and display — punctuated by its a contrast ratio of 100,000,000 to 1 that's 50x greater than LCD panels — certainly got ours.
Moving to the smart appliance category — something we don't often consider but our wives do — LG discussed a new Smart Manager for refrigerators that will help monitor food freshness, quantities and type, ultimately letting you know via interface or app when it's time to buy new lettuce, when you're out of yogurt and what types of healthy recipes you can make with the various ingredients still in your fridge. It may prove to be too much of a hassle to manually type the names and quantities of all the food and beverages once you get back from the store, but the potential of long-term convenience may outweigh that.
And guys, LG's new "Blast Chiller" is great for sodas and beer, cooling a room-temp beverage in five minutes using jet airflow and circulation rather than 40 minutes sitting there in a large open area of a standard fridge. That's a short enough time to pause a game and avoid pissing off your XBL or PSN friends while you chill a beer. Not too shabby.
But if 3D TV is LG's 1a in 2012, smartphones truly are its 1b, not appliances. LG's created some phenomenal devices in recent years and months, and they're ramping things up in 2012. The LG Spectrum, a 4G Android phone exclusive to Verizon Wireless, has a gorgeous 4.5-inch HD (1280×720) display that uses the same IPS technology as LG's HDTV line. The phone has a dual-core 1.5GHz processor with 1GB of RAM, so it will handle games with ease. It's also large enough to make work functions feasible, a facet that's easier to sell to the boss due to the Spectrum's dual-OS capability. Login to one of the Gingerbread profiles during the day, and you'll see only the work functions and data associated with that instance. When 5:00 hits, switch to the other OS instance, and it's game- and social-hour. You'll be able to see it for yourself when the phone hits on January 19.
LG kicked things off right on CES press day, and we're excited to stop by their booth to learn more about the 3D TVs and smartphones in particular. Life truly is good with LG; in 2012, the company's innovating at a fast pace to help even more consumers' electronic lives be as good as possible.