Baseball and hockey are my two least favorite major league sports, a comment that doesn't exactly make me unique among American males. The irony, of course, is that baseball is known as "America's pastime" even in an era when football and basketball rule the roost. But with that context as a backdrop, Sony's achievements with MLB 13: The Show become all the more impressive, as the resulting PS3-exclusive game is at once challenging and compelling — even for a fair-weather fan like me. The balance of depth and approachability is an impressive accomplishment, and although I'd still choose an NBA arena over the ballpark if given the choice of tickets, I can confidently say MLB 13: The Show is a worthy companion for gamers who get excited about Spring Training, and even those who don't.
Sony regularly went up against 2K Sports and EA for sports-game supremacy, with 2K consistently getting the nod for overall presentation. This year Sony defies what we've all come to expect from sports games in general, offering one of the best soup-to-nuts experiences this side of the real thing. The environmental audio, play-by-play commentary, player animations, NPC animations and even simple camera movements are all expertly executed, making you feel not only as if you're there, but controlling the action as if the entire stadium were a marionette.
Now, what do puppeteers do with marionettes? Control everything, of course, which is exactly what the Franchise Mode lets you do. If you've ever wanted to show that you're better than Steinbrenner, this is your chance to draft, manage and own the team. Season Mode, meanwhile, lets you get down to brass tacks and just play the game sans the management aspects. Road to the Show mode, meanwhile, allows you to create a player and bring him up through the leagues in an extensive career, while the Online League mode lets you to compete against friends via PSN.
The remaining mode is one I'm not sold on: Diamond Dynasty 2.0. This mode is essentially a card-based MMO of sorts in which players customize everything about their cards (player, stadium, uniforms, etc.) and compete against people using those customized cards. Maybe I'm alone here, but this seems totally forced. I just can't get into collecting and customizing digital cards. That sort of thing is best for tabletops and real-world packs of cards that include a stick of gum. Call me old fashioned.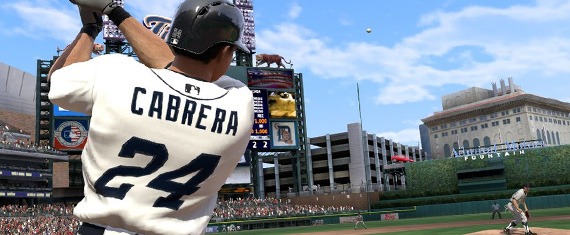 Fielding and pitching are often suspect in baseball games, but Sony's managed to do well in that regard by maintaining consistency in the fielding department and tweaking the pitching interface only enough so it's easier to control accuracy and power. For those who really study baseball, MLB 13: The Show also includes batter reports so pitchers can learn more about an individual batter's tendencies and vulnerabilities. I found this to be an incredible benefit for the first several games, but as I got more accustomed to this year's pitching tweaks, I paid less and less attention to these reports. I can't decide whether that was mere confidence, a dose of cockiness or just a simple desire for a speedier game, but it's worth pointing out the feature, because there are hardcore students of the game who'll eat those reports like candy.
Interestingly, this new feature is just one of many "options" that make MLB 13: The Show stand out. As I mentioned earlier, Sony has managed to make its seminal baseball game deep enough for even the hardest of hardcore baseball fans yet as approachable and cake-simple as any newbie would want or need. These aren't mutually exclusive, either, as the changes can be made in-game via menus and preferences. What's nice about this is that the game basically grows with the player, extending its longevity tenfold. If you start out needing tons of help, just setup the game accordingly. As your skills improve and you need more of a challenge, just adjust the settings again to keep the game fresh. It's not just a matter of increasing AI difficulty, either, which is nice; everything from pitching mechanics to Franchise management can adjust to your needs.
With that said, MLB 13: The Show doesn't do all that much different than previous Sony outings. If you're comfortable with last year's version and looking for a new challenge, you're really not going to find it here. There are a few small tweaks to the formula, and the presentation value is great, but this series has done right by gamers for quite some time, so there isn't really much "new." I wouldn't go so far as to say you're only paying for roster updates (Madden NFL, I'm looking at you), but I'm wondering what Sony can do to keep innovating in MLB 14: The Show on the PS4. And no, Ultra HD trading cards won't be all that innovative.
Score: 8.5
– Wade Wheeler
Platform reviewed: PlayStation 3 (platform exclusive)