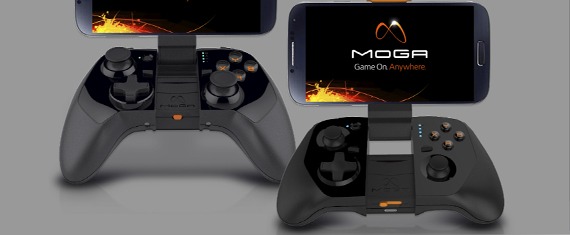 MOGA will showcase the next generation of its mobile game controllers at E3 next week, as its new MOGA Power Series prepares to ship this fall. Like the recently released MOGA Pro, both of the new "Power Series" controllers will be cross-platform compatible.
The two next-generation MOGA products include "MOGA Boost technology," which actually charges the user's mobile device while they play. This allows gamers to play longer without concern for running down their phone's battery. Both controllers include support for multiplayer gaming on the same screen, improved ergonomics, improved Bluetooth radios, and seamless support for its growing library of more than 100 MOGA Enhanced and HID compatible games.
The smaller, more portable of the two Power Series MOGA controllers has been completely redesigned and now features clickable analog thumbsticks, shoulder buttons, a D-pad and an improved form factor. All MOGA controllers feature dual analog sticks, shoulder buttons and action buttons, and connect wirelessly via Bluetooth to transform Android phones and tablets into mobile gaming systems.
MOGA is the only mobile game controller system that works with Android devices all the way back to version 2.3, and it now includes support for Windows Phone 8. The MOGA SDK for Windows Phone 8 is available to over 400 active MOGA developers.
The original MOGA Pocket features a slim and sleek set of controls making it the most portable and economical MOGA available. The MOGA Pro features rechargeable batteries and console-style design that is based on the award-winning FUS1ON Tournament Controller by PowerA. The MOGA system includes Pivot, a free-to-download app that helps users discover the huge library of MOGA Enhanced games that are available. Pivot also syncs MOGA controllers to mobile devices and helps organize the MOGA Enhanced games already installed on a user's phone.