Many Wii games have incorporated players' Mii, but the Xbox 360 hasn't done so nearly to the same degree. When Ubisoft first announced PowerUp Heroes for Kinect, allowing players' Xbox Avatar to be their in-game combatant in a motion-controlled fighting game, my interest was undeniably piqued. Not only was the avatar integration unique, but a fighter controlled by my very movements sounded pretty sweet. Having now played through PowerUp Heroes, it really is pretty sweet, although it does suffer a few snafus.
The premise of PowerUp Heroes is simple: your Xbox Avatar is an unassuming warrior chosen Green Lantern-style by a dying guardian. After giving you a gem that allows you to absorb the "power suits" worn by enemies you defeat, you're tasked with saving Earth from an evil army led by the robot Malignance. You'll save the world by moving your body or hands in certain ways as indicated by on-screen icons, with each power suit having different moves and specialties that require different motions. For instance, if you want to do a Ryu-like fireball with one of the characters, you pull back both arms to your side like Ryu, then push them forward to toss the flame toward your foe.
Your various hand motions perform different attacks based on the costume type, and each attack recharges at a different rate, so you can't sit there and do fireballs or turret guns all day. Because of this recharging, you can choose two suits as your "loadout" for each battle and raise your left hand mid-fight to switch between them. You'll generally find yourself swapping suits simply while the other one's attacks recharge or to chain quick combos together. You also have to parry and dodge certain attacks based on timed body movements, but the timing of them isn't particularly intuitive or precise.
Fighting the minions is done round by round a la Mortal Kombat, and you gradually make your way up the ladder to Malignance. Once you think you've beaten him, though, he summons another wave of power-suited baddies to try and take you out. The problem here is two-fold. First, they're the exact same characters you just defeated, only more powerful. Second, the difficulty increases with absolutely zero warning, essentially to an unenjoyable degree. You go from everyone being a cake walk to every minion being a hardcore boss battle, with the difficulty incline not unlike going from a downhill sprint into a head-on collision with a vertical surface.
The actual fighting mechanics also suffer from some issues. Now let's be clear: from a sheer activity/motion/sweat perspective, I can honestly say I've never moved or perspired as much as I did in PowerUp Heroes. The pace is fast in this game, and you absolutely need to plan your moves ahead.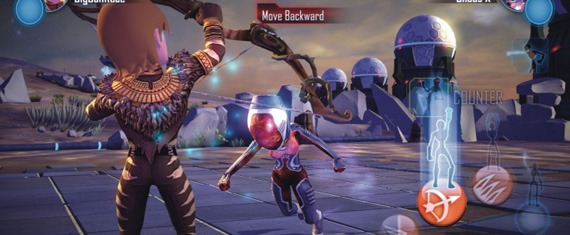 However, half or more of my effort wasn't due to the pace, but to what seemed to be movement-detection problems. For some reason, no matter how quickly you think or move, the game never manages to keep up. For instance, the game continually fails to pick up your blocks, counter moves and in some cases even your next attack, to the point that you'll be there flapping your arms at the TV to get the move to animate on screen. Yet there your avatar will be, sitting idly by while it the snot beat out of it waiting for input. In addition, even the HUD can't keep up with the action in some cases, which means the game won't even tell you which moves are recharged and available, let alone recognize your arm movements for those moves that you already know are available. The response-time and HUD issues make battles in the later stages of the game feel insanely cheap and artificially hard.
To be fair, some of it's just good AI, as you really do have to mix up hand-to-hand combat, ranged attacks, magic and projectiles. The game's never really fast in terms of its response to your input, but it definitely makes you think fast even if the on-screen action isn't as "twitchy" as many fighting-game fans may like.
Outside of the campaign, the Versus Mode lets you play against a friend in split-screen mode on any of the levels you encountered in the Campaign, and with any of the characters you've unlocked. You can also play as Ezio (from Assassin's Creed) and The Thief (the Prince of Persia) once you unlock them. The split-screen concept is fun, but with all the action and props that go flying around the screen, it's really a bit too distracting to be playable. Instead, Xbox Live multiplayer is the way to go, because you're playing on a single screen and don't have to worry about the "cheap shots" that the Campaign delivers. The challenge here, unfortunately, is hooking up with friends; it's ridiculously hard to find random people on the Quick Match or Ranked Match options. All I can figure is nobody bought this game, or at least wasn't playing when I was.
Still, PowerUp Heroes is an awesome concept that really makes you feel like you're in a fighting game. If TRON and Mortal Kombat had a love child, it would be PowerUp Heroes. Playing with multiple people is also a riot, presuming you do so via Xbox Live, and I've never had a more immersive Kinect experience than I have with this game. It's really too bad, then, that the game has lackluster response times to your gestures and can't seem to keep up with the on-screen action in the second half of the game. I still enjoyed PowerUp Heroes, but let's just say a sequel could really do well to iron out some of the issues on this first outing.
Click this link to check the price of PowerUp Heroes at Amazon.com: PowerUp Heroes at Amazon
.
Score: 7.9
Platform reviewed: Xbox 360 Kinect (platform exclusive)