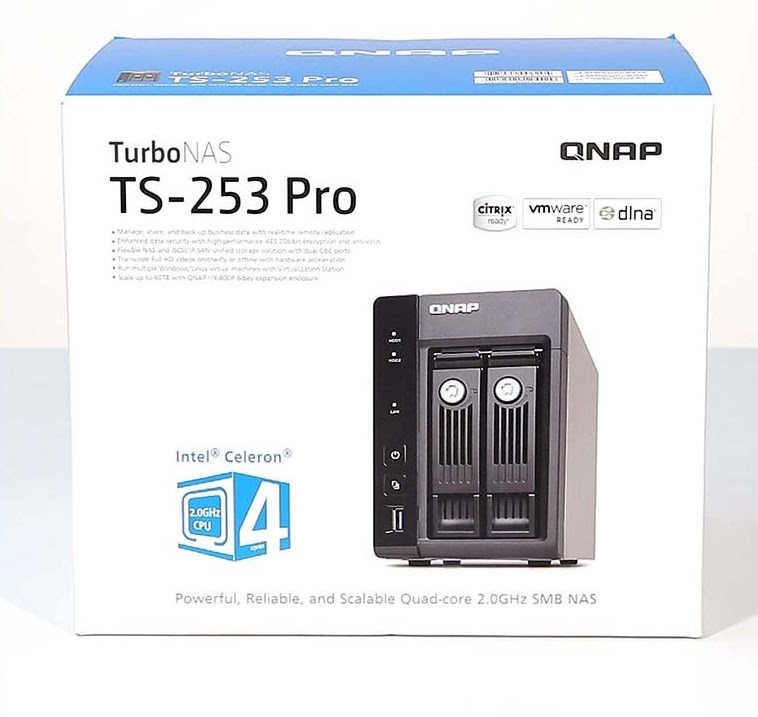 The TS-253 Pro is the latest feature-intensive two bay NAS optimized device from QNAP, a company that has forged a reputation for itself as the premium manufacturer of quality storage devices.  
It is an excellent surveillance station and offers extraordinary IT management solutions. There are so many remarkable aspects about the features of TS-253 Pro itself.
Features
It has a 2.0GHz 22nm quad core Intel CPU that can be upgraded and also has 8GB of DDR3L RAM, two Gigabit ports for LAN that can handle up to 200MB/s in link aggression mode and over 70MB/s transfer speed when used with an AES 256 bit volume encryption.
A feature packed system that is capable of running its own OS, it is more than a simple NAS solution.  Its Qsync enables file synchronization across multiple devices. Besides, there is a mobile app Qfile for downloading and remote streaming and support, which facilitates backup, management and entertainment of all applications including third party apps. In addition to this, there is support for unified storage and virtualization applications that are compatible with various OS like Citrix, iSCSI/NAS, VMware and others.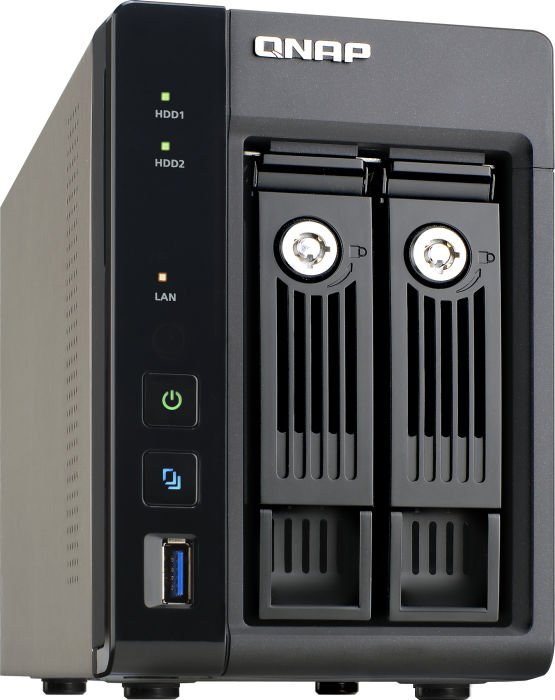 Most people use external hard drives to store content they can't store on their computer hard-drives but the TS-523 Pro does more than that. 
The TS-253 Pro can also function as a TV media box. It can handle large video file viewing by means of the built-in HD Station through HDMI. There is also support for US keyboard, a mouse and MCE remote control. The virtualization feature enables users to run multiple virtual machines and loading can be virtualized with Microsoft ODX and VMware VAAI to enhance operational efficiency. It is unbelievable that you can get this amazing piece of technology along with a 2-year warranty cover for just over $500.
There is QTS 4.1 software that comes with the server. To use the external server you might want to download the latest firmware from the web site www.start.qnap.com. Once you do this, you can access the cloud services that tie in with mobile apps for on-the-go usage.
The device did exceedingly well when tested using the WD Red 4TB NAS Hard Drive in Raid 0 array. This drive seems to suit the NAS operation particularly well. (When loaded with the WD Red 4TB NAS Hard Drive, it offered better write test results than the Seagate Drive we tested it on.)
The TS-253 Pro supports single disk configuration, you get to choose your own configuration. Besides the single disk configuration, the TS-253 also supports JBOD, RAID0 1.
Users can quickly load important applications by using the App Center. Within the unit itself, you can find an app repository that has various apps to cater to various needs. You can manage the unit by using the Qmanager feature.
Who is it for?
The TS-253 Pro is suitable for novices and professionals. It is mainly designed for small workgroups and enthusiasts, and has all the right ingredients for a small business setting. It is ideal especially for people who travel frequently because it synchronizes files easily and allows mobile applications, real-time streaming, remotely.
Pros and Cons
Yes, the complete feature set is impressive however there are a few striking features that prove to be extremely advantageous over time. Let's take a look.
The TS-253 Pro supports various OS such as Citrix, Microsoft Hyper-V, Windows Server 2012 and VMware.
It is portable which means you can pack it up easily when you have to travel but still need to interact with your office or with other people.
The menus are easy to access and to understand. Users have the ability to share information across different platforms. The ability to run third-party applications makes it ideal.  As your needs grow so will the use and ability of this unit. It also provides IT backup for years.
QNAP's own data backup software works exceptionally well backing up data from several workstations. There is also support for third party application and backup software options along with cloud storage backups and real time remote replication (RTRR).  
The Qsync feature can synchronize updates across different devices. Features like the Qfile supports remote streaming and support across various third party backup systems, management system as well as a variety of entertainment apps.
It also functions as a PC when connected to a monitor, mouse and keyboard, thanks to QvPC consolidation of VM, media transcoding, integration to cloud and support for all the common browsers out there.
Having said that, there are a few downsides you need to be wary of. They are not deal breakers though but we think they are worth mentioning.
The unit takes long time to start up and to shut down. This does not necessarily mean the unit is slow but the fact that it is meant to be kept on, means that the manufacturer was trying to avoid this start up issue.
The mixed workload profile performance is not commendable and needs some improvement.
Verdict
The TS-253 Pro unit is an amazing tool for office and well as home use. For the most part, the device performed really well compared to the other NAS, especially in write tests. In almost every instance, the WD Red HDD served it better than the other manufacturers. In closing, it is a fantastic option for small businesses with limited capacity requirements that still want performance centric profile and a wide array of features.